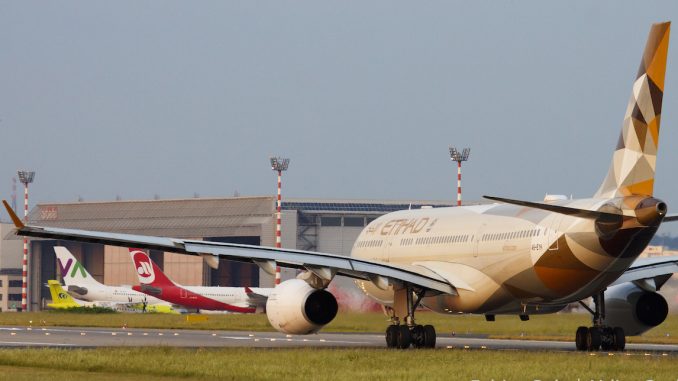 Airlines in the United States have for years been crying over alleged subsidies that Middle Eastern carriers receive. The U.S. carriers will tell anyone who will listen that the so-called ME3, which includes Qatar Airways, Etihad, and Emirates are all receiving government subsidies that allow the airlines to operate at a loss. They believe that due to the government subsidies the ME3 are able to withstand losses while still offering extravagant premium cabins and growing capacity without regard for costs.
Eventually, an understanding was reached, though not a meaningful one. It put a lid on the U.S. carriers' complaining and let the status quo continue.
The Europeans Have a Go
However, it appears that the Europeans have picked up the hatchet based on the new regulation passed by the European Union.
Under this new regulation, the European Commission (EC) is now allowed to investigate non-EU airlines and/or countries in the name of safeguarding competition in air transport. The commission will investigate where it suspects that foreign carriers or countries are engaging in behaviors that can injure EU airlines.
The regulation is essentially extending the EU anti-subsidy rules to non-EU carriers and countries. This state aid rule prevents EU carriers from benefiting from state support which could unfairly distort the market. In a poor attempt to make things fair, the EC will also prevent EU airlines from offering services to non-EU countries that would distort the market and give EU airlines an unfair advantage.
This, however, is all talk. The EC would not be allowed to carry out an investigation in the non-EU country without consent. So in reality, this isn't going to happen and it's expected that the bureaucrats in Brussels would never do anything to harm their air carriers, even if they may be playing unfairly.
Enforcement
Any EU member state, EU airline, airline group, can all complain to the EC for an investigation to be opened. In order for that to happen the complaints have to allege a practice of distorting competition, injury or threat of injury and a causal link between the two.
The commission will then have 12 months to complete its investigation if it finds that the complaint has enough evidence.
There are two outcomes if the investigations find that non-EU carriers and/or countries were engaging in any sort of behavior that could injure EU carriers.
The EC can levy financial duties on the non-EU carriers and/or countries or impose an operational measure of equivalent or lesser value. These operational measures cannot consist of suspending or limiting traffic rights but the term is quite broad. It could involve the termination of concessions that those accused airlines/countries may be receiving.
However, the interesting caveat here is the remedies cannot be enforced until the threat of injury has developed into an actual injury. This can be exceedingly hard to prove. The U.S. carriers couldn't do it, hard to believe the EU carriers will be able to do it either.
The effectiveness of this new regulation is a head-scratcher. It's quite loosely cobbled together and doesn't really contain enough to bite to make a tangible difference. It seems as if it's just another empty-handed understanding, just like what was seen in the U.S.

Hemal took his first flight at four years old and has been an avgeek since then. When he isn't working as an analyst he's frequently found outside watching planes fly overhead or flying in them. His favorite plane is the 747-8i which Lufthansa thankfully flies to EWR allowing for some great spotting. He firmly believes that the best way to fly between JFK and BOS is via DFW and is always willing to go for that extra elite qualifying mile.

Latest posts by Hemal Gosai (see all)