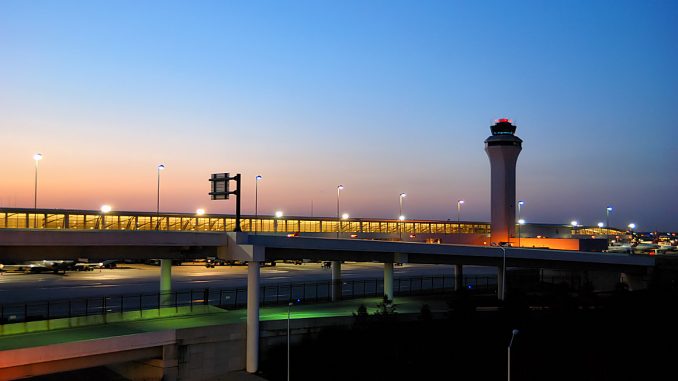 Since the creation of the first airport in 1909 by Wilbur Wright, cities in the United States have come together to create one of the most expansive airport systems in the world. Over the next few months, our writers have taken an in-depth look to see what airports each state has to offer, what its history entails, and what changes we can expect in the future that will continue to shape the airline industry.
Michigan was the 26th State of the United States to be admitted to the Union in January of 1837. Michigan has developed several commercial airports within its state, with one in particular providing regular service not only across the country, but across the globe as well.
Major Airports
Detroit Wayne County Metropolitan Airport – Romulus, Michigan
Detroit Airport is a major international airport within the United States, carrying over 33 million passengers per year. The airport is Delta's second largest hub when it comes to daily flights, with the largest being Atlanta. It is also the second largest hub for American low-cost carrier Spirit Airlines. In 2012, the airport was known as the 44th busiest airport in the world, and remains one of the largest air transportation hubs in the country. The airport features a staggering six runways (Labeled 4R/22L, 4L/22R, 3R/21L, 3L/21R, 9L/27R, 9R/27L) with lengths varying between 8,500 feet and 12,000 feet. The commercial history of Detroit started in 1954 and 1956 when Pan-Am and BOAC launched flights. Pan-Am operated three DC-7C flights per week between Frankfurt-Heathrow-Shannon-Detroit-Chicago, whereas BOAC operated one flight per week operating Heathrow-Prestwick-Montreal-Detroit-Chicago.
A variety of carriers operate to Detroit including: Air Canada Express, Air France, Aeromexico Connect, Alaska Airlines, American Airlines & Eagle, Apple Vacations (Operated by Xtra Airways – Seasonal basis), Delta Airlines & Connection, Frontier, JetBlue, Lufthansa, Royal Jordanian, Southwest, Spirit, Sun Country Airlines (Charter basis), United Airlines & Express & Virgin Atlantic (Services ending March 2017). In terms of cargo operations, the airport is in an oligopoly featuring three carriers: DHL Aviation (operated by Atlas Air), FedEx (use of express & feeder services), and UPS Airlines.
Gerald R. Ford International Airport – Grand Rapids, Michigan
The Grand Rapids-based airport is named after the 38th President of the United States. The airport operates to 23 domestic cities across the United States and is considerably smaller than Detroit's airport. It carries 2.5 million passengers per year and has over 75,000 aircraft movements each year. The airport was built in November 1919, only eight years after the area witnessed it's first airplane landing, being the Wright biplane. The airport has three runways (labeled 8R/26L, 8L/26R & 17/35) which vary in length from 5,000 feet to 10,000 feet. The largest aircraft that operates out of the airport is Delta's Boeing B757-200 from Grand Rapids to Detroit. The route is operated on a seasonal basis during the summer schedule.
The commercial carriers that operate out of Grand Rapids include Allegiant Air, American Eagle, Delta, Southwest & United Airlines. All routes operated by the five carriers are to domestic destinations within the country. In terms of cargo operations, FedEx monopolizes that market carrying over 82 million pounds worth of air freight in 2014 alone, an increase of 2.1% from the year before. The most popular destination from Grand Rapids is Chicago O'Hare, as 214,000 passengers traveled to the Illinois-based airport with American and United from the period April 2015 – March 2016.
Bishop International Airport – Flint, Michigan
The last major airport in Michigan is Bishop International Airport. The airport carried over 1,000,000 passengers per year between the years of 2007 and 2011. These days the airport still manages to carry a minimum of half a million passengers per year. The airport started off in 1928 when Arthur Giles Bishop, who was a board member at General Motors donated 220 acres of his farmland towards the airport's development. The airport has two Asphalt-surfaced runways (labeled 18/36 and 9/27). The airport opened their Transport Security Administration Checkpoint in 2012 to enhance security at the airport.
In terms of operators, they are the same as those that fly to Gerald R. Ford International Airport Altogether, this means that this airport serves flights to Orlando (Sanford), St Petersburg/Clearwater, Chicago O'Hare, Atlanta, Minneapolis/St-Paul, Chicago-Midway, Fort Myers, Orlando, Tampa & Newark, showing a very extensive route network for a small airport. The airport has had a history of upgrades and renovations. Between the years of 2012-2014, the airport spent $15.1 million on terminal renovations, runway upgrades and many other enhancements.
Minor Airports
Cherry Capital Airport – Grand Traverse County, Michigan
Cherry Capital Airport is a small airport that carries on average around half a million passengers per year. It was the ninth airport in the United States to implement biometric access systems following the tragic events of September 11th, 2001. The airport has two runways (labeled 10/28 and 18/36), both of which are asphalt. The airport had 92 aircraft based at the airport in 2012 and over 75% of traffic counts as General Aviation, whereas only 10% counts as scheduled commercial services. Like with Grand Rapids, Chicago O'Hare is the most popular destination out of Cherry Capital, with nearly 100,000 passengers flown down to Chicago by American and United.
The airport is quite unstable in terms of commercial services. In the winter, there is a minimum of eight daily flights whereas in the summer, there are around 30 flights. Only four carriers operate out of Cherry Capital, with the majority operating during the summer: American Eagle, Delta, Delta Connection & United Express. Cargo is also very scarce at the airport, with CSA Air providing the occasional flights under the CSA Air name and UPS flights being operated under Freight Runners Express and AmeriFlight. The scarcity of carriers operating into this airport is probably due to their reputation. In 2009, Forbes listed the airport second in the top-ten "rip-off" airports due to the cost per mile being 41 cents, a price that airlines refuse to pay.
Capital Region International Airport – DeWitt Township, Michigan
Capital Region opened on May 1st, 1926. The airport averages over 300,000 passengers per year and features three Asphalt runways (labeled 10R/28L, 10L/28R & 6/24). The airport has seen tough times during the 2000's when flights had been reduced from 35 to 12 per day. Low-cost carriers such as Spirit and Allegiant had limited success out of the airport, and international flights were suspended before they even started. The airport revealed their "Master Plan" in 2006, which consisted of constructing a new terminal building, a new control tower, a new 9,000-foot runway replacement for 10L/28R as well as expanding Runway 6/24 to 7,785 feet and expanding their cargo facilities.
In terms of operators to the airport, it is dominated by American Eagle, Delta Connection andUnited Express. The majority of flights come from Delta Connection and United Express using Bombardier CRJ200, CRJ900, and ERJ135 aircraft. Sun Country Airlines also operates charter flights during the summer to Minneapolis. Miami Air International will be providing good news to the airport's growth as they will be introducing three seasonal flights from the airport to Cancún, Punta Cana, and Puerto Vallarta using Boeing B737 aircraft. The airport will hope to increase passenger numbers following a 15-year decrease from 656,000 passengers to 323,000 passengers.
Kalamazoo/Battle Creek International Airport – Kalamazoo County, Michigan
Featuring a three runway setup (labeled 17/35, 5/23 & 9/27), Battle Creek airport carries around a quarter of a million passengers per year to destinations such as Chicago, Minneapolis & Detroit featuring airlines such as American Eagle, Delta Connection & United Express. The airport competed with Grand Rapids, Detroit, and South Bend in terms of airports and passenger numbers. The airport was built in 1926 with the first air mail services commencing in July 1928. In 1929, the airport was given their license as the first municipal airport in Michigan. Airline service commenced at Battle Creek in 1944 when Francis Airways and Northern Skyways began services to other Michigan cities and then suddenly stopped services two years after.
By May 1955, North Central Airlines began the branching out of Michigan with flights to Chicago. To put things into perspective on a historical basis, North Central became Republic Airlines, which then became Northwest Airlines, which then finally merged with Delta Airlines. In 1975, the airport's first air traffic control tower was built. By 2011 the airport was connected to destinations such as Orlando and also the major hubs of American carriers. Nowadays, the airport is predominantly controlled by the General Aviation industry, with 79% of all air traffic counting towards smaller aircraft traffic. By 2012, the airport had over 100 aircraft based locally, featuring single engine, multi-engine and jet aircraft as well as a small presence from the local military.
Overall, this report highlights a state that has big aviation grassroots linking from the 1920's to present day, counting for nearly 100 years of history. The future looks bright and exciting for the state of Michigan!
James is a passionate AvGeek who has been actively spotting for years. James has been an Aviation Enthusiast for 7 years and has a fond likening to Concorde! James hopes to grow in the aviation industry with journalism being his primary focus.
Latest posts by James Field (see all)