Emirates has announced its plans to retire over 50 airplanes over the next three years as part of a fleet modernization program aimed at reducing the current fleet's average age.
The Dubai based carrier will receive 20 Airbus A380s and 16 Boeing 777-300ERs, which will replace aging aircraft such as the aging 12 Airbus A330s, five Airbus A340s, and nine Boeing 777s next year. The addition of 30 new aircraft will reduce the average age from 16 years down to below six years, according to the airline.
The airline's president, Tim Clark stated "We are fully committed to flying a modern fleet that is better for the environment, and provides our customers with a superior level of comfort and safety."
The airline welcomed 26 new aircraft last year comprised of 15 Airbus A380s and 11 Boeing 777s. The Boeing 777s heading for the exit are mostly older variants, such as the 777-200ER and the 777-300.
Emirates recently showed how they retire a 777 in this video:

Clark went on to add that "With the retirement of older aircraft and the introduction of new, more fuel efficient aircraft in 2016, Emirates will continue to lead the industry in reducing the age of our fleet."
The airline took delivery of its 150th Boeing 777 in September, and claimed that their 777s have accumulated 4.72 million flight hours and have taken flight more than 850,000 times since their first aircraft arrived in 1996.
Emirates currently has around 230 aircraft in service and 262 orders, including 115 of Boeing's highly anticipated 777-8Xs and 777-9Xs with deliveries expected in the beginning of 2020. With 68 A380s in service, Emirates is the world's largest operator of the giant double decker. The airline has another 72 on order, totaling up to over 140 in service. Fleet predictions expects the airline to have 320 aircraft by 2018 and over 400 by 2020.
As part of its future fleet development and vision, the airline has continually stated its desire for Airbus to develop an A380neo (New Engine Option), similar to how Airbus has begun developing a neo option for its A330. Clark specifically stated that the airline would order well over 100 of the type should Airbus create a neo version.
Emirates expects a 10-13% unit cost improvement of the neo compared to the current aircraft. Clark believes that a 10% reduction in fuel burn would be possible with the new engines, aerodynamic improvements, and cabin-weight reductions, making the Airbus A380 a perfect fit for its high passenger traffic routes. The plan would also involve introducing new cabin chairs which are 30% lighter, therefore reducing the aircraft's weight by three metric tons.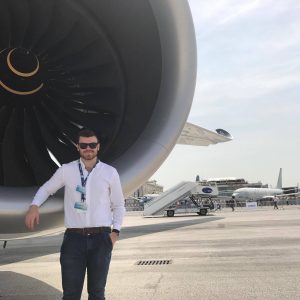 James is a keen aviation enthusiast from the United Kingdom. He has been flying since the age of 13 and today, aged 23, flies the Airbus A319/320 series for one of Europe's largest airlines.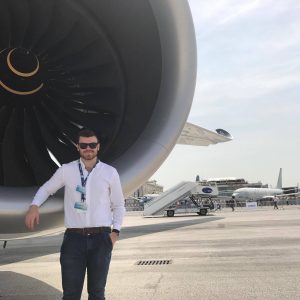 Latest posts by James Dinsdale (see all)