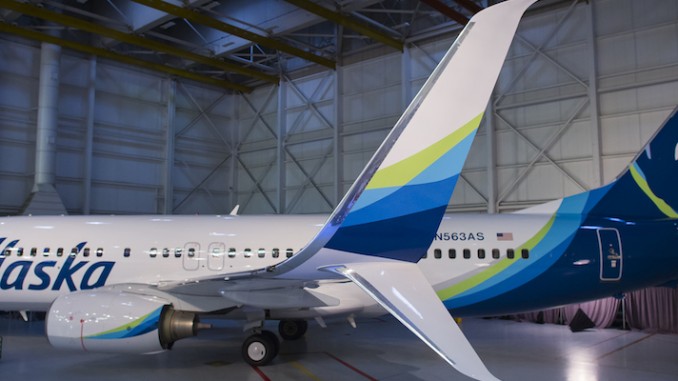 On Monday, Alaska Airlines revealed a major overhaul to its brand, which has remained largely unchanged for almost 25 years. The new look features a revised Alaska word-mark and an updated rendition of the classic Eskimo on the tail of the aircraft.
Alaska's iconic Eskimo was first introduced in 1972 along with four other Alaska-themed logos: a gold miner, a totem pole, and, reflecting Alaska's Russian heritage, a set of Russian spires. The Eskimo quickly gained mass appeal and in 1976, Alaska transitioned to an all-Eskimo fleet. The Eskimo was set to be replaced in the 1980s, but public protest prompted the company to keep the face. Alaska's 2016 update features a simplified Eskimo to facilitate digital renderings. Blue and green, representing Alaska's tropical destinations, have also been added to his qulittaq, or parka.
So, here are all four of the @AlaskaAir liveries through the years. (First three pics by Alaska) pic.twitter.com/2YL9fXY9Tt

— AirlineGeeks.com (@AirlineGeeks) January 25, 2016
A revised Alaska word-mark was first introduced in 2014, smoothing the icicle-like font and cleaning the letters. The new look continued this clarification with smoother and clearer letters and the elimination of serifs. These changes, plus the addition of green, "began to dramatically change people's first impressions of the brand."
Alaska announced this change amid a period of rapid growth at the airline.
Says Sangita Woerner, Alaska's vice president of marketing, "We've added 90 new markets in the past five years. As we continue to grow, we are updating the outward expression of our brand so it shows up bolder wherever we fly." In addition to new destinations, the airline has introduced a host of product enhancements, including new IFE options, in-flight dining, and onboard power outlets. Alaska's new brand and enhancements are designed to present a more favorable, less "cold" image to customers unfamiliar with the former look.
Alaska will gradually introduce the branding across airport signage, online digital materials, and the fleet throughout the coming months. Alaska's first aircraft, a 737-800, has been repainted, Alaska's website features the updated brand, and gates and ticket counters in Seattle and other major Alaska cities are already seeing branding updates.
Photos of the new branding:
AirlineGeeks.com began in February, 2013 as a one-man (er… teenager, rather) show. Since then, we've grown to have 20 active team members, and yes, we're still growing. Some of us are looking to work in the aviation industry as professionals when we grow older. Some of us are still trying to decide what we want to do. That's okay though, because we're all here for the same reason: we love the airlines. We're the youngest team of airline industry journalists out there.
Latest posts by AirlineGeeks.com Staff (see all)