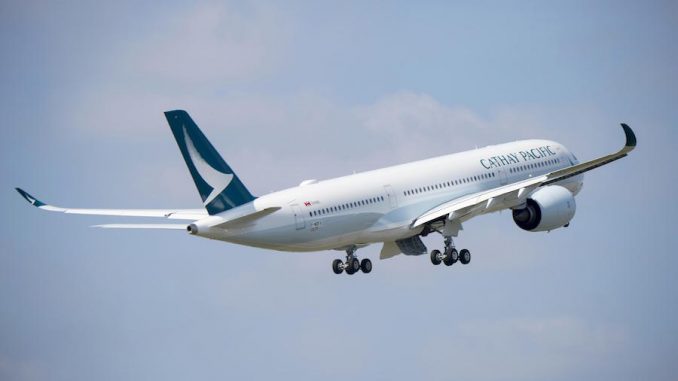 Hong-Kong based carrier Cathay Pacific Airways has announced a boost in connectivity on flights to Manchester. As of Dec. 1, 2017, the carrier will be operating services on a daily basis with their Airbus A350-900 aircraft.
The Boeing 777-300ERs in their fleet will be replaced by the A350-900s in June respectively, which is a smaller aircraft but with greater frequency and a newer cabin.
Neil Glenn, Cathay Pacific General Manager for Europe, commented: "Our frequency increases are a direct result of responding to the needs of our customers.  Since we initially launched the route in December 2014, we've been delighted with how popular it has proved. The enhanced schedule will provide business and leisure travellers in the North West with more choice and greater flexibility in planning their trips for added convenience, while at the same time strengthening Hong Kong's position as Asia's leading aviation hub.  From there, the airline serves over 190 destinations via Hong Kong International Airport, including 22 destinations within mainland China."
This expansion means that Manchester's catchment area of over 22 million people will be able to enjoy extra and potentially cheaper flights to the Swire.
The Airbus A350-900s will feature Business, Premium Economy, and Economy in terms of class configurations. Flight times remain relatively the same in terms of arrivals and departures but the frequency will be changed over the course of the year.
Stephen Turner, Commercial Director at Manchester Airport, said: "For Cathay Pacific to recently announce an increase to five flights per week was excellent news in itself, but for them now to go to a daily service from December clearly showcases the strong demand for the route. In just a few years the route is performing extremely positively and allows the 22m people in our catchment area easy, direct access to Hong Kong and beyond. It continues to unlock economic opportunities and trade between the two regions and I am sure the extra frequency will be welcomed by business and leisure passengers alike."
All-in-all, such expansion for Cathay Pacific in the Northwest of the UK is looking very promising and prosperous, offering potential opportunities for growth further North.
James is a passionate AvGeek who has been actively spotting for years. James has been an Aviation Enthusiast for 7 years and has a fond likening to Concorde! James hopes to grow in the aviation industry with journalism being his primary focus.
Latest posts by James Field (see all)