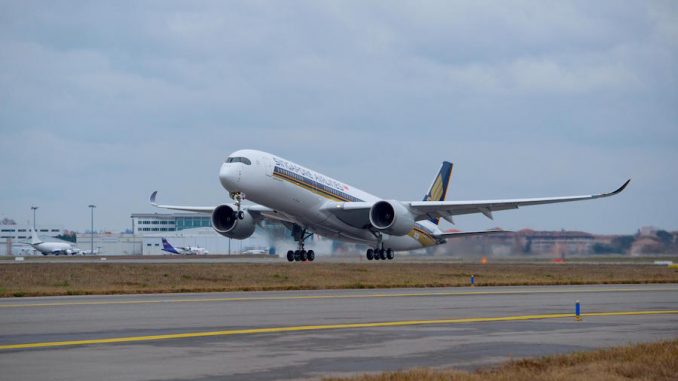 Singapore Airlines has added a second new flight to their Scandinavian network portfolio with five times per week service to Stockholm via Moscow. The carrier believes that this will compliment existing flights to Copenhagen in Denmark in order to provide connectivity across Scandinavia to destinations in Southeast Asia and Northern Europe.
The new route is being served by the carrier's Airbus A350-900XWB aircraft. The first service departed Changi on Tuesday at 12:33 a.m. local time and arrived on the same day at 8:59 a.m. local time.
As soon as the aircraft departed from Changi, the inaugural passengers were greeted with several song performances from local Swedish bands as well as a variety of Swedish-themed drinks and a special boarding gate event before the flight.
On top of this, passengers received an exclusive goodie bag which contained a Batik luggage belt with weighing scales as well as a Dala Horse cosmetic pouch. Upon arrival into Stockholm, the aircraft received a water cannon salute and a gate hold event was hosted by Arlanda to celebrate the arrival of these new services.
This Stockholm flight with the A350-900 will seat 253 people in a three-class configuration. 42 people will be in business class followed by 24 in premium economy as well as 187 in economy.
In a press statement, the airline commented on the use of the A350: "The A350 will form a key part of the Airline's fleet in the years ahead, and has enabled introduction of new services such as non-stop flights between Singapore and San Francisco, helping to boost connectivity to and through the Singapore hub. With advanced technology and superior operating efficiency, the A350-900 offers customers an improved travelling experience with features such as higher ceilings, larger windows, an extra wide body and lighting designed to reduce jet lag."
SQ362 will provide direct links between Singapore and Sweden. Thanks to the joint ventures between SAS and Singapore that have been in existence since 2013.
This follows the airline's launch of new flights to Houston from Singapore via Manchester, which would help boost such connectivity between America and Asia respectively.
With the use of the A350-900ULR (Ultra Long Range) aircraft that the airline is due to receive over the next few years, Singapore Airlines can expand their international portfolio.
James is a passionate AvGeek who has been actively spotting for years. James has been an Aviation Enthusiast for 7 years and has a fond likening to Concorde! James hopes to grow in the aviation industry with journalism being his primary focus.
Latest posts by James Field (see all)