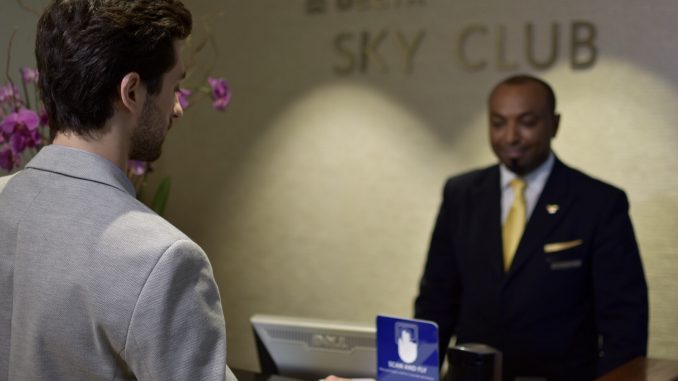 Atlanta-based Delta Air Lines and New York-based JetBlue Airways have announced that they will start to test biometric boarding at selected airports in the U.S. The move comes in an effort to continue with industry trends to increase security while building on customer experience.
At Washington-National Airport, Delta started to allow some members of its SkyMiles Loyalty program to access Sky Club lounges using fingerprints as identification. Delta hopes to expand the functionality to allow passengers to check bags and board flights using the same fingerprint mechanism.
Currently, the tests are limited to SkyMiles members enrolled in Clear, a subscription program built on using biometrics as an identification measure at airport checkpoints in order to eliminate the need for initial identity checks and boarding passes.
"We're rapidly moving toward a day when your fingerprint, iris or face will become the only ID you'll need for any number of transactions throughout a given day," said Gil West, Chief Operating Officer at Delta.
In a similar move, JetBlue will test facial recognition technology on passengers flying from Boston-Logan to Aruba's Queen Beatrix International Airport. The airline will work with U.S. Customs and Border Protection (CBP) and SITA, an information technology provider for airlines, to use a custom-designed camera to take photos of passengers and compare it against a database of passport, visa, and immigration photos.
A display will then appear above the camera, informing passengers if they are cleared to board or not. JetBlue customers will not have to pre-enroll or register in advance in order to participate in the tests.
"We hope to learn how we can further reduce friction points in the airport experience, with the boarding process being one of the hardest to solve," Joanna Geraghty, JetBlue's Executive Vice President for Customer Experience, said in the statement.
Additionally, Jim Peters, Chief Technology Officer of SITA stated, "What we want to deliver is a secure and seamless passenger experience. We use sophisticated technologies to enable biometric checks and for CBP authorization to be sent quickly to the airline's systems."
While the move is a first for U.S.-based airlines, Amsterdam-based KLM started to use face scanning technology at Amsterdam-Schipol Airport this past February. The airline uses a scanner installed outside of the jetway to confirm the passenger's identity. KLM also claims that all passenger data will be cleared from the kiosk after 10 hours for security compliance.
An "AvGeek" for most of his life, Akhil has always been drawn to aviation. If there is an opportunity to read about an airline, fly on a new airplane, or talk to anyone about aviation, he is on it. Akhil has been on over 20 different kinds of aircraft, his favorite being the MD-80. Additionally, he has visited 5 continents and plans to knock out the remaining two (Africa and Antarctica) soon. Based in Dallas, Akhil graduated from Texas A&M University with a degree in Management Information Systems and currently works in consulting. His dream is to become an airline executive.
Latest posts by Akhil Dewan (see all)