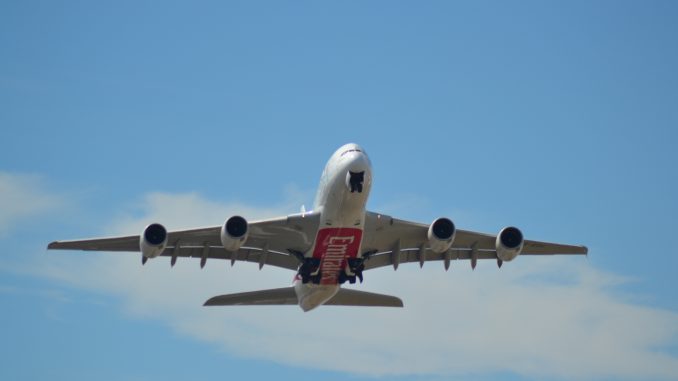 Emirates has been blocked from adding any new routes to China for six months following two safety incidents involving the Dubai-based carrier. The ban, which will prevent the carrier from expanding its operations out towards the East, was laid out by the Civil Aviation Administration of China (CAAC) on Wednesday. It is currently not known how the ban will impact Emirates's planned growth in the region.
The airline was also fined 29,000 yuan ($4,270) after representatives from Emirates met with officials from the CAAC to review its operations, according to a statement published on the regulator's website on Wednesday.
The airline has indicated that it will be carrying out its own investigation into the two incidents in question and will cooperate fully with the authorities while taking onboard the suggested recommendations and improvements laid out by the CAAC.
According to the statement on the regulators website on Wednesday, the two incidents in question happened over the region of Xinjiang, with the first occurring on April 17, when the crew misunderstood instructions and flew at an incorrect altitude. The latter incident occurred on May 18 and saw radio communications cease in the same region, with the aircraft temporarily losing communication with air traffic control.
While the Chinese regulator operates a "zero tolerance" policy on violations, Emirates has ensured it will cooperate fully with the regulator, completing all actions laid out by the authority. It insists it complies with all CAAC requirements on its current operations to China. It currently operates services to six destinations in China, including Shanghai, Beijing, and Guangzhou.
With no confirmed time frame regarding the rescinding of the ban, it is unknown how it will impact the airline's plans to expand within the region. Emirates had previously planned to increase capacity on its Beijing and Shanghai services from July 1 with the addition of another A380 aircraft, replacing the current Boeing 777-300ER which operates the second daily service on these routes. It has not yet been announced as to whether this plan will go ahead.
Josh is a long-term aviation enthusiast and aspiring commercial airline pilot. From a young age, he has immersed himself in all things aviation. From plane spotting at local airports and airfield to racking up frequent flier miles on trips abroad, Josh is a huge AvGeek at heart. He graduated from university in September 2017 with a first class Bachelor of Science degree in Air transport. He completed his pilot training, gaining his Frozen ATPL in November 2017 upon completion of his Multi-Engine Instrument rating and Multi-crew/Jet orientation course. He currently has around 230 hours of flying experience in various aircraft. He hopes to join an airline as a first officer by the end of 2017.

He frequently flies on one of his favorite airlines, British Airways, and is an avid Avios collector and British Airways Executive Club member.
In his spare time, while not studying, flying or immersing himself in aviation he enjoys spending his time volunteering in a variety of roles and running a blog to help other aspiring pilots pursue their dream.
Latest posts by Joshua Drabble (see all)