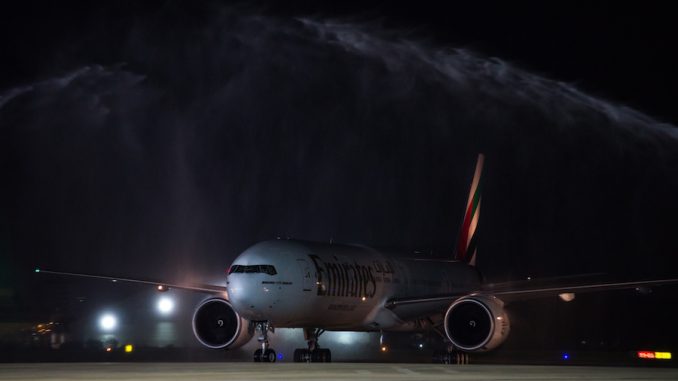 Emirates Airline has just launched its first service to Cambodia with the introduction of a daily service from Dubai International Airport to Phnom Penh International Airport via Yangon. The introduction of the service brings the total number of cities served by the Dubai-based carrier to 13 in the region.
The service, which sees Phnom Penh and Yangon connected by air for the first time since 2014 will be operated daily by a Boeing 777-300ER aircraft. The flight will depart daily from Dubai at 0915hrs before landing in Yangon at 1725hrs local time. It will then depart for Phnom Penh at 1855hrs before arriving at 2125hrs local time.
The route was scheduled to allow seamless connections from numerous European cities, including Paris, London, and Frankfurt. The maiden flight took to the skies on July 1st with senior Emirates officials onboard along with business leaders and media from both the UAE and GCC.
Eric Delobel, Cambodia Airports CEO, welcomed the arrival by saying,"This Emirates aircraft touching down in Phnom Penh International Airport brings a wealth of opportunities by further bolstering Cambodia's profile as one of the fastest growing economics and most popular tourism destionations [sic] in the region."
The airport saw 3.3 million travelers pass through its doors last year, up from 3 million in 2015. Eric Delobel says the addition of this Emirates aircraft will be instrumental in boosting the airport connectivity and the number of air travellers while Mohammad Sarhan, Emirates' country manager, said it hopes to play a significant role in the growth of Cambodia's economy by opening the route.
The introduction of the route will also see further competition between Dubai-based Emirates and Doha-based Qatar Airways who have been operating a daily service between Phnom Penh and Doha since 2013. It is the latest in a series of pressures between the two carriers since a diplomatic dispute earlier this month which saw both countries cease services between the two countries.
Josh is a long-term aviation enthusiast and aspiring commercial airline pilot. From a young age, he has immersed himself in all things aviation. From plane spotting at local airports and airfield to racking up frequent flier miles on trips abroad, Josh is a huge AvGeek at heart. He graduated from university in September 2017 with a first class Bachelor of Science degree in Air transport. He completed his pilot training, gaining his Frozen ATPL in November 2017 upon completion of his Multi-Engine Instrument rating and Multi-crew/Jet orientation course. He currently has around 230 hours of flying experience in various aircraft. He hopes to join an airline as a first officer by the end of 2017.

He frequently flies on one of his favorite airlines, British Airways, and is an avid Avios collector and British Airways Executive Club member.
In his spare time, while not studying, flying or immersing himself in aviation he enjoys spending his time volunteering in a variety of roles and running a blog to help other aspiring pilots pursue their dream.
Latest posts by Joshua Drabble (see all)