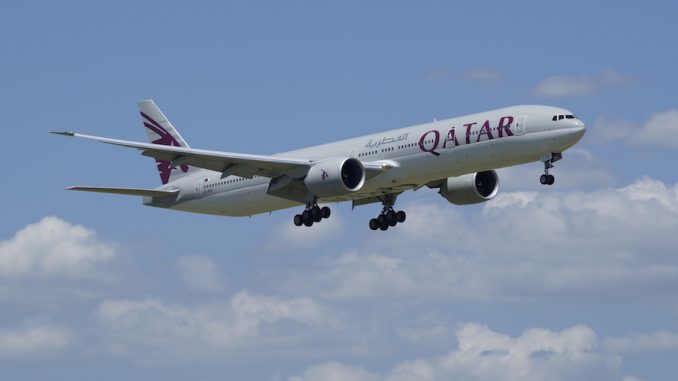 Doha-based Qatar Airways has announced a new service to the capital city of Australia, Canberra. The new service, which is scheduled to start on Feb. 12, 2018, will not be a direct flight, but will instead route via Sydney, doubling the carrier's current frequency to the hub.
The new service will be operated by a Boeing 777-300ER, and will arrive in Canberra at 8:25 a.m. each day. The aircraft will then depart back to Sydney at 1:45 p.m., and then continue onto Doha.
The addition of this service comes as no surprise, as Qatar began showing its interest in the capital last November, citing Canberra as one of eight destinations it wanted to launch in 2017 or 2018. It will join Singapore Airlines as the only two international airlines flying into the city.
The carrier currently operates a daily service to Sydney with its Airbus A380 aircraft, having only direct rights for one service a day. The addition of this flight is seen as a workaround, and allows the carrier to double its frequency on the Doha to Sydney route.
Qatar Airways CEO Akbar Al Baker has previously noted how further expansion into the region is possible, with Canberra at the forefront of it all, provided that current limits put in place by the Australian government are loosened. The two other major Gulf carriers, Etihad and Emirates, have also been adamant in their campaign to add more flights from the Middle East to Australia.
The airline is already selling seats on its website for the new service, but an airport spokesman for Canberra airport has said that Qatar airways is awaiting final approval from the Federal Department of Infrastructure, Transport and Regional development to operate the route.
The airport has yet to receive formal confirmation from the carrier on the details of the new flights. While Qatar will be able to transport passengers between Doha and Canberra, it will not be allowed to sell any tickets for passengers wanting to travel domestically between Sydney and Canberra.
Josh is a long-term aviation enthusiast and aspiring commercial airline pilot. From a young age, he has immersed himself in all things aviation. From plane spotting at local airports and airfield to racking up frequent flier miles on trips abroad, Josh is a huge AvGeek at heart. He graduated from university in September 2017 with a first class Bachelor of Science degree in Air transport. He completed his pilot training, gaining his Frozen ATPL in November 2017 upon completion of his Multi-Engine Instrument rating and Multi-crew/Jet orientation course. He currently has around 230 hours of flying experience in various aircraft. He hopes to join an airline as a first officer by the end of 2017.

He frequently flies on one of his favorite airlines, British Airways, and is an avid Avios collector and British Airways Executive Club member.
In his spare time, while not studying, flying or immersing himself in aviation he enjoys spending his time volunteering in a variety of roles and running a blog to help other aspiring pilots pursue their dream.
Latest posts by Joshua Drabble (see all)