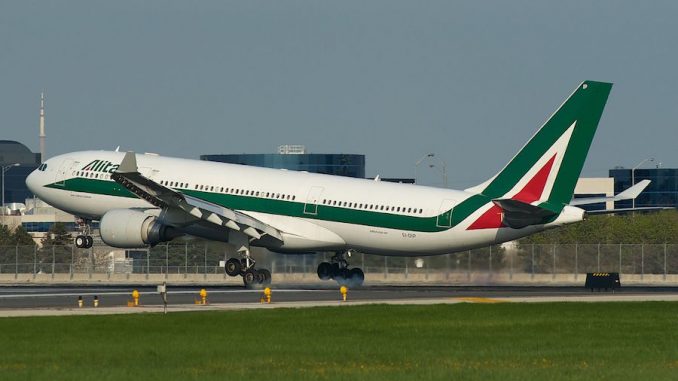 Alitalia today confirmed that it has received seven offers for part or all of the company. The airline entered formal bankruptcy proceedings in May, with the deadline for formal offers to purchase passing on Monday evening. So far, only Lufthansa and EasyJet have expressed an interest in part, but not all of the airline.
The move indicates further intentions for both the German national carrier and the British low-cost airline to expand their operations, with both having already agreed to separate deals to acquire parts of the soon-to-be defunct Air Berlin. It appears on the surface that both airlines are seeking a similar deal with Alitalia.
"EasyJet has today submitted an expression of interest in certain assets of a restructured Alitalia, consistent with easyJet's existing strategy for Italy," the company said in a statement to the London Stock Exchange. It went on to indicate that nothing is confirmed at this stage and will provide further details in due course.
Lufthansa expressed an interest in establishing a "NewAlitalia", opting not to make an offer for the entire airline, but "only parts of the Global network traffic and European and domestic point-to-point business." Further details have not yet been provided by Lufthansa due to confidentiality agreements.
Authorities in Italy are thought to prefer an outright sale of the entirety of the airline, having already paid out over €600 million to facilitate the company's continuing operation. The sale has already been postponed from November to April of next year to avoid any political issues arising from the upcoming Italian elections.
Italian newspaper Corriere della Sera, referring to anonymous sources, suggested the Lufthansa bid was €500 million "for the planes, airport runway slots and aircrew", and a proposal to reduce Alitalia's workforce which currently consists of about 12,000 employees. The airline currently operates a fleet of 121 aircraft, including 41 A320s and 12 B777s.
Reports of the interest have caused unrest among Italian trade unions. The General Labour Union (UGL) secretary Paolo Capone expressed fear for the airline's current workforce. In a statement, he said, "In a market of sharks, the offers made are underbids which will have a negative impact on the future employment of its workers."
Ryanair had previously expressed an interest in Alitalia's long-haul activities but declared in September that they would not be pursuing their interest after a series of controversies involving pilot rostering, which saw more than 700,000 passengers affected by cancellations.
It has been a turbulent few months in European aviation, with the Alitalia saga being one of several negative stories affecting established airlines in the continent.
Along with the aforementioned Ryanair issues, Monarch has ceased operations, Air Berlin's final scheduled flight is October 28, and only last week a French ATC strike resulted in thousands of flights being cancelled.

Andy flew regularly from a young age on family holidays, but his interest in aviation really began when he saw Concorde flying over his grandparents' house on final approach. A Power Engineer by profession, his hobbies include writing, playing guitar, and taking a beating at squash.

Latest posts by Andy Nelson (see all)