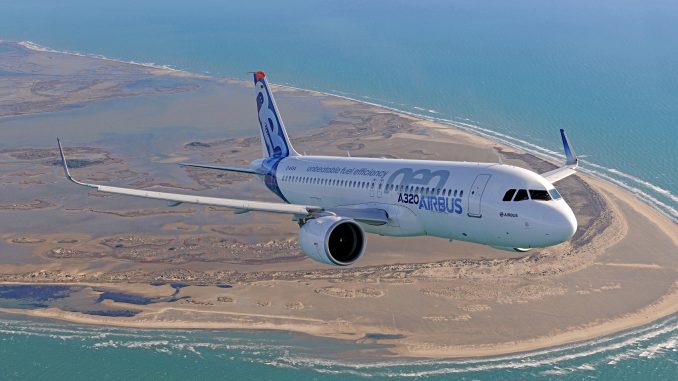 On Wednesday, Airbus announced its largest single aircraft order in the company's history. U.S. investment firm Indigo Partners bought 430 aircraft of the Airbus A320 family for a sticker price of 49.5 billion dollars. The deal was announced at the Dubai Air Show by a jubilant John Leahy, Airbus' Chief Operating Officer – Customers. The massive deal includes orders for both the A320neo and A321neo aircraft, Airbus' newest revamp of the A320 family.
Just a few days prior to the order, Airbus had been concerned that the Dubai Air Show would end in disaster for the company, with annual orders tracking below anticipated levels and few new orders placed at the Gulf event. Airbus has struggled to sell its flagship A380, even after its revamp as the A380plus. Rival Boeing had been pulling ahead of Airbus in recent weeks with further 787 orders firming up in Dubai.
With this order, Airbus has caught up in one fell swoop. The unusualness of the order begs the question: who places an order of this magnitude and what motivates them to place an order with a single manufacturer instead of diversifying?
Indigo Partners is an American private equity and venture capital firm based in Phoenix, Ariz. that specializes in airline industry investments. It holds shares of Denver-based ultra-low-cost carrier Frontier Airlines, Chilean discount airline JetSmart, Hungarian low-cost carrier Wizz Air and is rumored to be aiming at the Canadian market, as Canada is underserved by low-cost airlines.
The man behind Indigo Partners is William "Bill" Franke. The 80-year old founder and CEO of Indigo Partners is a veteran of the airline industry. Franke led Phoenix-based America West Airlines as Chairman from 1993 to 2001, moving on to be Chairman of Tiger Airways in Asia from 2004 to 2009, as well as Chairman of Fort Lauderdale-based Spirit Airlines from 2006 to 2013.
Franke is not only a pioneer in the low-cost airline industry, he is also a generous philanthropist, having donated millions to universities across the U.S. His experience in the discount market also explains the placement of a single order with one manufacturer for essentially one aircraft model. Only using one aircraft family makes crew training and equipment maintenance significantly cheaper than buying a mix of aircraft.
It remains to be seen how the order pans out in terms of aircraft type and total price. The ratio of A320 to A321 is not yet known, neither is the actual price that Franke paid Airbus for the aircraft. Orders of a normal size are subject to heavy discounts from the listed price, making it safe to assume that Franke got a sizeable rebate on the sticker price.
Following the press conference, Franke simply explained that when negotiating the price, "Sometimes Airbus wins," and sometimes Franke wins. At the Dubai Air Show, they both may have won.
Adrian joined AirlineGeeks as a writer in 2017. He had always wanted to become a pilot and while he chose a different career path for now, his interest in aviation continues to grow every day. Adrian was fortunate to travel extensively for business in the past five years. As a result, he focuses his research and writing on passenger services and experiences on a variety of airlines. His favorite aircraft include the Airbus A350, A380, and the Embraer passenger jets.
Latest posts by Adrian Vannahme (see all)