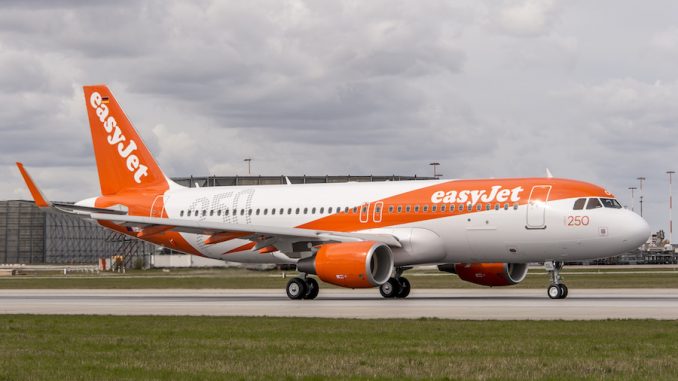 EasyJet is set to start operating from Tegel Airport, Berlin's city airport, starting Jan. 5. The British low-cost-carrier announced nineteen routes it would begin operating from Tegel, including fifteen international and four domestic routes. In addition, 25 EasyJet aircraft will be stationed at Tegel, some of them coming from the now-defunct Air Berlin, as a result of  EasyJet's part-takeover of the airline.
The setup and development of operations from Berlin-Tegel will be organized by EasyJet Europe, the company's affiliate airline based in Austria to avoid being affected by any consequences Brexit may have on the carrier's UK-based operations. The first flight is scheduled for March 2018 with the possibility of additional routes being launched in the summer.
The new German destinations for the airline are Düsseldorf, Frankfurt, Munich, and Stuttgart. In addition to the domestic routes, the new international destinations travelers can now fly from Berlin are Budapest, Catania, Fuerteventura, Helsinki, Copenhagen, Madrid, Milan (Malpensa), Palma de Mallorca, Paphos, Paris (Charles de Gaulle), Rome (Fiumicino), Stockholm (Arlanda), Tel Aviv, Vienna and Zurich.
These routes come in addition to the many routes that EasyJet already operates from Berlin's Schoenefeld Airport located about 10 miles beyond the city limits.
EasyJet's Germany Director Thomas Haagensen announced tickets would start low at 42 EUR for one-way flights. "Our offer will bring more competition to Berlin, especially for German routes where few other carriers operate," Haagensen explained in the context of Air Berlin's recent bankruptcy which left Lufthansa as the only airline serving many German routes.
However, airline consultant Manfred Kuhne believes that "the added competition from Easyjet won't hurt Lufthansa too much," given that EasyJet will hardly fill the void left by Air Berlin. Air Berlin used to operate 1800 flights a week from Tegel, whereas EasyJet's planned maximum capacity is around 1000 weekly flights.
EasyJet is now awaiting approval from the European Union's competition authorities for its 40 million EUR part in the takeover of Air Berlin, which it needs to gain access to Air Berlin's formers slots at Tegel. Easyjet is expecting the green light "very soon," according to sources in the airline.
Meanwhile, Ryanair, never far behind, announced that it had applied for slots at TXL starting in the summer.
Adrian joined AirlineGeeks as a writer in 2017. He had always wanted to become a pilot and while he chose a different career path for now, his interest in aviation continues to grow every day. Adrian was fortunate to travel extensively for business in the past five years. As a result, he focuses his research and writing on passenger services and experiences on a variety of airlines. His favorite aircraft include the Airbus A350, A380, and the Embraer passenger jets.
Latest posts by Adrian Vannahme (see all)