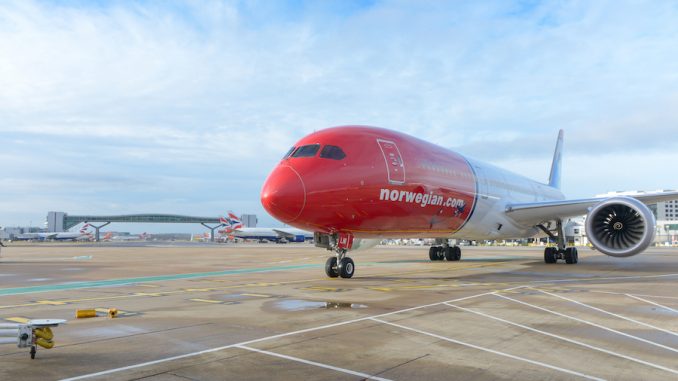 Following Norwegian's announcement of record passenger numbers in 2017, the airline is planning further expansion as it hopes to continue growing over the next several years. The low-cost carrier announced an 11 percent increase in passengers for November alone.
With the airline continuing to grow, Chief Executive Bjorn Kjos is hoping to add to the airline's success with further expansion plans to its network. "We are pleased that more passengers are choosing to fly with Norwegian. The demand is stable and the growth is highest on our intercontinental routes."
"Global expansion is important to position ourselves in a market with such strong competition, but also for creating economic value in the markets we operate."
2017 has seen the carrier go from strength to strength, with the airline recently launching its longest long-haul flight from London Gatwick to Singapore. Asia is one region the airline is considering to further expand into to help strengthen its low-cost network of destinations around the world.
The carrier is also set to start operations into Argentina, with the local authority authorizing the airline to operate into the region on Monday. The airline has been authorized to operate around 60 aircraft into the region, with 72 local and 80 international routes already authorized. Norwegian's planned Argentinian operations is expected to generate 3,200 jobs in the region.
The carrier is set to start operations next year, investing $4.3 billion into its planned 60 aircraft operation in South America. It will have access to major airports in the region, including Buenos Aires, Mendoza, and Cordoba. The agreement has been signed for 15-years before needing to be renewed.
Norwegian has also seen huge growth in its fleet, introducing an additional 32 aircraft alone in 2017, bringing its total fleet size to around 150 aircraft. By 2019, it is set to have nearly 200 aircraft. Currently, Norwegian's fleet consists of all Boeing aircraft, however, this is set to change in 2019 when it begins taking delivery of Airbus A321LR aircraft.
The carrier has already made its mark in the U.S. by introducing its low-cost services to a variety of destinations, including New York City, Los Angeles, and Miami. This past July, the carrier announced new flights to Austin and Chicago, bringing its total number of destinations in North America to over 15. With further expansion on the cards, and passenger numbers continuing to climb, only time will tell if Norwegian can keep up with this level of growth.
Josh is a long-term aviation enthusiast and aspiring commercial airline pilot. From a young age, he has immersed himself in all things aviation. From plane spotting at local airports and airfield to racking up frequent flier miles on trips abroad, Josh is a huge AvGeek at heart. He graduated from university in September 2017 with a first class Bachelor of Science degree in Air transport. He completed his pilot training, gaining his Frozen ATPL in November 2017 upon completion of his Multi-Engine Instrument rating and Multi-crew/Jet orientation course. He currently has around 230 hours of flying experience in various aircraft. He hopes to join an airline as a first officer by the end of 2017.

He frequently flies on one of his favorite airlines, British Airways, and is an avid Avios collector and British Airways Executive Club member.
In his spare time, while not studying, flying or immersing himself in aviation he enjoys spending his time volunteering in a variety of roles and running a blog to help other aspiring pilots pursue their dream.
Latest posts by Joshua Drabble (see all)