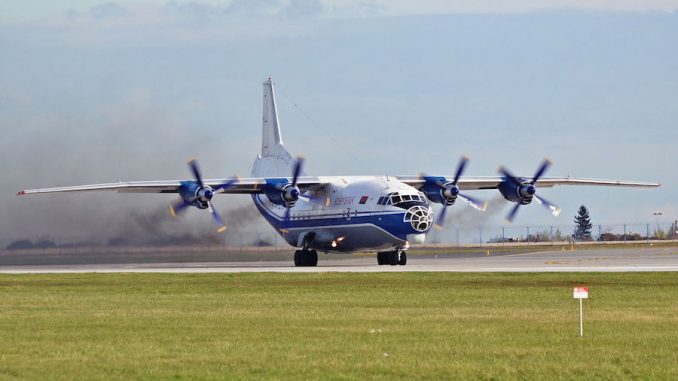 Last week, a Russian airplane lost over three metric tons of gold bars during take-off from the airport of Yakutsk in Siberia. The precious cargo inside the Nimbus Airlines Antonov AN-12 had shifted during taxiing and damaged the freight door. When the plane accelerated for takeoff, the door opened and gold-plated silver bars started to fall onto the runway.
The precious metals continued to fall out as the aircraft gained in altitude. Gold bars were found as far as 26 kilometers away from the point of departure. Russian investigators confirmed the incident, which took place on March 15, to news service Telegram and to the Siberian Times.
The AN-12 landed in the nearby town of Magan, 26 kilometers northwest of Yakutsk, before returning there to collect the lost gold. The AN-12 is a commonly used military variant of the Antonov AN-10. The AN-12 exists mostly as a mixed cargo and passenger aircraft in much of what used to be the Soviet Union.
The aircraft was en route to Krasnoyarsk from a gold mine in Kupol in the remote region of Chukotka. It had landed in Yakutsk for a planned refueling stop. The overall cargo load of the Antonov was over 9.3 metric tons of gold bars.
The incident did, however, not lead to newfound riches for the few residents of the region, as one might assume. A spokesperson for the gold mine where the treasures had originated confirmed to news agency Interfax that there had been no losses. "Everything was collected," the spokesperson said. The mine is owned and operated by the Canadian company Kinross Gold.
Investigators also confirmed that all 172 gold bars with a total weight of over 3.4 tons were found and recovered, following a search by the Russian Interior Ministry and the Secret Service.
The estimated value of the 172 gold bars was said to be around $368 million and an improperly anchored cargo belt in the hold has been identified as a possible cause of the shift of the cargo. The investigation into the incident continues.
Adrian joined AirlineGeeks as a writer in 2017. He had always wanted to become a pilot and while he chose a different career path for now, his interest in aviation continues to grow every day. Adrian was fortunate to travel extensively for business in the past five years. As a result, he focuses his research and writing on passenger services and experiences on a variety of airlines. His favorite aircraft include the Airbus A350, A380, and the Embraer passenger jets.
Latest posts by Adrian Vannahme (see all)