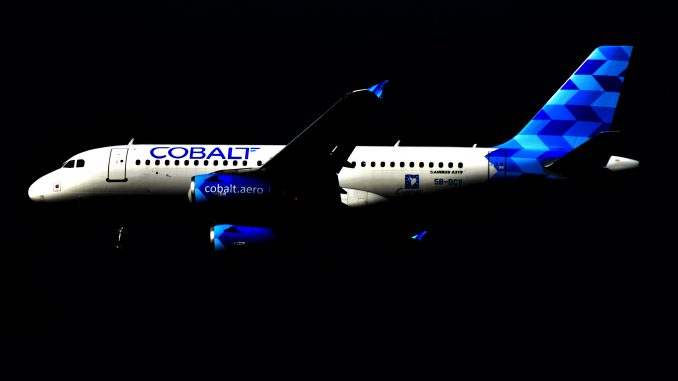 Earlier this week, AirlineGeeks reported that Larnaca-based Cobalt was experiencing financial trouble. The airline's website has just been updated to inform passengers that all future flights have been suspended indefinitely. The airline's main stockholder is AJ Cyprus, a company owned by Avic Joy Air, a Chinese company. With 49 percent of the carrier being controlled by the Chinese company, recent instructions by the Chinese government to investors ordering a freeze some investments to third countries as a consequence of trade war tensions with the U.S. hurt the airline greatly.
The airline's final flight departed London Heathrow (LHR) at 5:58 p.m. and landed just a few minutes after midnight on Oct. 18 at Larnaca Airport's runway 22. The airline's website asks passengers not to show up at Larnaca Airport for any future departures as there will not be any Cobalt staff to assist passengers. With around 10 to 14 daily departures from the airport, Cobalt is the largest year-round carrier in Larnaca.
Cobalt operated a fleet of six aircraft consisting of two Airbus A319s and four Airbus A320s and runs its operations out of Larnaca International Airport in Larnaca, Cyprus. The airline commenced operations in June 2016, approximately one year after the nation's flag carrier, Cyprus Airways, dissolved. At the time of the airline's grounding, it had a route network focusing on connecting the Middle East with Europe through Larnaca from 23 destinations.
According to Cyprus Mail Online, the Civil Aviation Authority of Cyprus had been monitoring the airline's situation for some time, but according to reports they stated that the airline was doing fine until the past few weeks, paying all payments on time and maintaining aircraft to standards.
Reports are that cash-flow problems first started being reported earlier this month when the airline did not pay lease fees on their aircraft to the American leasing company that owns a few of their aircraft. This caused two specific aircraft to be grounded until the payments were made
On the front end, business continued as usual. Two days ago, the airline announced a new route from Larnaca to Cairo that was scheduled to begin in November. Around 11:30 p.m. on Oct. 17, the airline's website stopped accepting bookings.
The airline only has about 17 million U.S. dollars in its accounts. The remaining funds will reportedly be used to pay their approximately 200 current employees. For the past few years, Cobalt has been Cyprus' largest carrier and the biggest employer of former Cyprus Airways pilots and flight attendants. The Cyprus Tourist Agencies Association has described the airline's closure as "a great loss."
The end of Cobalt's run may allow the other Larnaca-based carriers: Charlie Airlines, operating as the new Cyprus Airways, and Tus Airways to further expand. Aegean Airlines may also capitalize on this situation and bring back the Larnaca hub that it opened after the nation's flag carrier went bankrupt in 2015.
Cobalt's collapse comes just weeks after Primera Air also ceased operations on Oct. 1, 2018. The month of October has not been a good one for European airlines over the past few years as Monarch shut down on Oct. 2, 2017 and Air Berlin on Oct. 27, 2017.
AirlineGeeks.com began in February, 2013 as a one-man (er… teenager, rather) show. Since then, we've grown to have 20 active team members, and yes, we're still growing. Some of us are looking to work in the aviation industry as professionals when we grow older. Some of us are still trying to decide what we want to do. That's okay though, because we're all here for the same reason: we love the airlines. We're the youngest team of airline industry journalists out there.
Latest posts by AirlineGeeks.com Staff (see all)