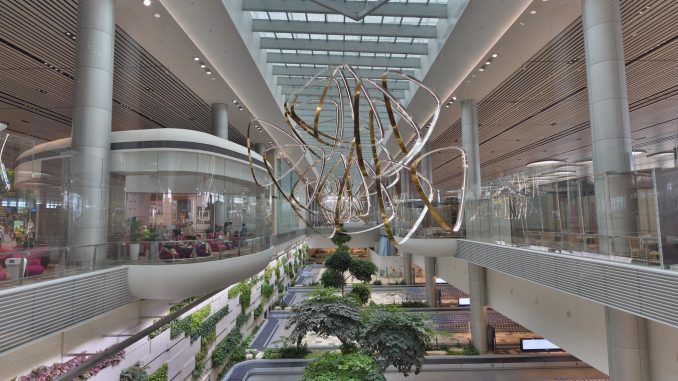 According to Singapore Changi Airport, the vibrant Asian hub has handled 5.38 million passengers in October, a 4.3 percent increase compared to last year. Airfreight also grew 2.1 percent to reach 190,000 tonnes and the aircraft movement were 3.2 percent higher than the same period last year.
In October, all regions around the globe recorded passenger growth. Passengers travelling to the U.S. rose by 28 percent. Although the numbers are smaller, European traffic also increased by 15 percent, mainly from the U.K. and German markets. London, Denpasar, Indonesia and Melbourne were three markets that recorded double digit growth in October.
As of Nov. 1, over 100 airlines operate out of Changi Airport, connecting Singapore to 400 cities through more than 7,200 weekly scheduled flights. For the first three quarters of 2018, passenger volume rose 5.8 percent to 48.7 million, compared to the same period last year.
In October, Garuda Indonesia launched four times weekly service to Belitung, Indonesia and Air India Express began operating flights to Bangalore, India. Also, Singapore Airlines re-launched the world's longest flight from  Newark.
As a result of the growth, the airport has announced the expansion of terminal one which will be completed by mid-2019. According to The Straits Times, once the construction is completed, the terminal one will be capable of handling 3 million more passengers a year. This will allow the annual capacity of Changi Airport to reach 85 million passengers. Terminal One will add self-service check-in kiosks and bag-drop machines in the future which allow travelers to print their own luggage tags. The construction has cost $323 million.
Changi Airport has been named the best airport by Skytrax for six years in a row, as a consumer-oriented airport. In 2017, Changi Airport was the world's sixth busiest airport, handling 62.2 million passengers.

Will has been a travel agent in Hong Kong for almost three decades, as time goes by he hasn't lost his passion for his job, He still has plenty of enthusiasm for the airline industry and airport operations.