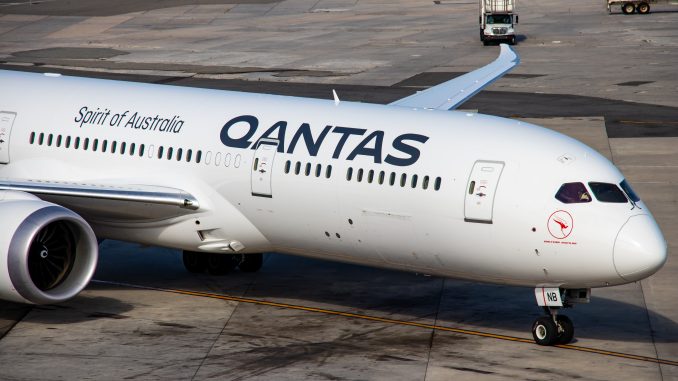 Australian flag carrier Qantas is celebrating the 22nd anniversary of its partnership with chef Neil Perry, the man behind Rockpool restaurant and others in Sydney. To mark the occasion, Qantas invited AirlineGeeks to lunch in New York City last week with chef Perry creating the menu for the event.
Lunch, however, was more than just an anniversary party, the items featured on the menu for the meal were specifically curated by Perry to showcase different strategies he and his team are using to make long haul flights more bearable. With Australia located in a remote part of the world, long-haul flights are something of a specialty for the airline, the Perth-London flight being the longest.
When creating dishes for long-haul flights, is a large focus on hydration. Aircraft cabins tend to feature less humidity since the air in the upper altitudes are largely devoid of humidity and pressurization only brings the cabin altitude down to around 6,000-8,000 feet, depending on aircraft type. Leafy greens are similarly important as they can help stimulate melatonin production, encouraging passengers to sleep.
As the saying goes, the best long-haul flight is the one you can't remember because you were sleeping. Menus like the ones featured during our lunch are showcased on Qantas' ultra-long-haul routes like Perth-London and will likely end up on the eventual New York-Sydney nonstop that will hopefully sprout in a few years.
To start lunch, we sampled a few canapés and a cocktail consisting of Campari and fluffy orange juice called the Garibaldi.
While the crab canapé was quite good, the anchovy toast was less compelling. Although tasty, I'd hope that it's something that will stick to the Qantas First Lounge and not end up on the plane. That's a smell that can linger and not something I'd want to experience on a long-haul flight.
The canapés were immediately followed by a yellowfin tuna appetizer that is often found in Qantas First Class. The dish was quite good and simple enough that it can be properly executed in-flight
For the main dish, a halibut poached in a garam masala and coconut milk sauce was offered. While the dish itself was very good, poaching the fish in the sauce itself helped it retain moisture which is crucial when dishes are being reheated on aircraft as they can go dry.
Watery dishes, white plating and airplanes, however, do not tend to mix well and can leave sauce residue on the inside of the bowl as well as spillage during transport. Ideally, this dish would've been best executed if originally presented without the sauce and then the sauce would be poured tableside
The dessert was a phenomenal pavlova that is featured in the Qantas First Lounge in Sydney. This one speaks for itself.
Overall, it was a great lunch. It's interesting to see airlines taking an approach for healthier meal options on board to reduce the stress of travel, especially on long-haul flights where the effects of food on the body are different than on the ground and careful considerations must be taken.

Hemal took his first flight at four years old and has been an avgeek since then. When he isn't working as an analyst he's frequently found outside watching planes fly overhead or flying in them. His favorite plane is the 747-8i which Lufthansa thankfully flies to EWR allowing for some great spotting. He firmly believes that the best way to fly between JFK and BOS is via DFW and is always willing to go for that extra elite qualifying mile.

Latest posts by Hemal Gosai (see all)