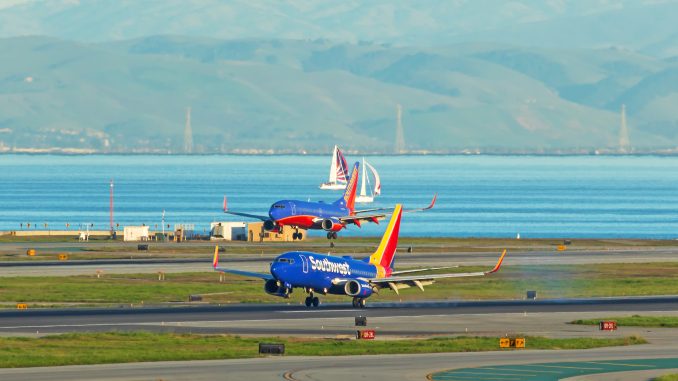 Dallas-based Southwest Airlines has announced that it will be suspending 17 routes in January.
The routes being cut had not performed as expected, but the carrier has hoped that the cut routes will free up aircraft for routes with higher demand, such as flights to Hawaii.
"We are always evaluating our service patterns and performance to ensure that we are offering the right number of seats for the community based on demand from travelers," a Southwest spokesperson said in a statement.
Effective January 6, the carrier will be eliminating service from Los Angeles to Cancun, Puerto Vallarta, Omaha, Nebraska, and Pittsburgh. From Boston, the carrier will eliminate service to Atlanta, Kansas City, Missouri, and Milwaukee.
From its hub in Dallas, the carrier will eliminate service to Oklahoma City, Jacksonville, Florida, and San Francisco. In Florida, Southwest will be eliminating service from Orlando to Oakland, San Jose, and Sacramento, California. The Fort Lauderdale to Jacksonville route will also be suspended. Southwest will be also be eliminating service between New York-Orlando, Columbus, Ohio-Oakland, and Austin, Texas-San Francisco.
"This will allow us to reallocate that capacity on service that is a better opportunity to address the demand of our local Dallas customers," said a statement from Southwest in regards to the elimination of the Dallas routes, with the Oklahoma City flight acting as an essential route in connecting Texas and Oklahoma.
This announcement comes just a few weeks after the carrier announced that it would be ceasing operations out of Newark, New Jersey.
In turn, the carrier plans to add new flights to Hawaii connecting the Hawaiian cities of Kona, Lihue to cities such as San Jose, Sacramento and Oakland.
An "AvGeek" for most of his life, Akhil has always been drawn to aviation. If there is an opportunity to read about an airline, fly on a new airplane, or talk to anyone about aviation, he is on it. Akhil has been on over 20 different kinds of aircraft, his favorite being the MD-80. Additionally, he has visited 5 continents and plans to knock out the remaining two (Africa and Antarctica) soon. Based in Dallas, Akhil graduated from Texas A&M University with a degree in Management Information Systems and currently works in consulting. His dream is to become an airline executive.
Latest posts by Akhil Dewan (see all)