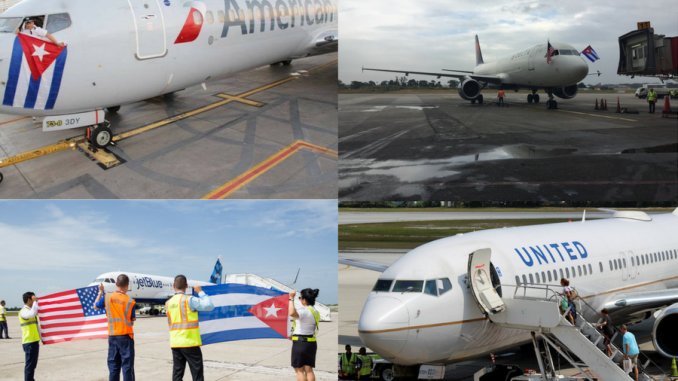 For over five decades, there has been no scheduled air service between the United States and Havana. As of Nov. 28, travel to and from the Cuban capital has gotten a bit easier thanks to new flights from American, United, jetBlue, Frontier, and Delta.
Fifty-Five Years Ago
In the early 1950s, Cuba was a major American leisure and tourist destination until Fidel Castro's revolution in 1959. Being one of the leaders in Havana, Delta gained its routes to Havana through its merger with Chicago and Southern Airlines (C&S) in May of 1953. The airline operated service until 1961, when Castro declared the country as a "socialist camp," severing diplomatic relationships between the two countries, thereby terminating direct commercial service. During 1962's Cuban Missile Crisis, commercial carriers were forbidden from flying into Cuban airspace due to the threat of being attacked. For the next few decades, U.S. aircraft avoided Cuba, with the exception of a few hijackings. 
In 2001, changes in regulation allowed family members of those on the island to visit their loved ones via charter flights. Many airlines have chartered flights between the two countries, including American Airlines, with its service between Miami, Tampa, and Los Angeles to Camaguey (CMW), Cienfuegos (CFG), Havana (HAV), Holguin (HOG), and Santa Clara (SNU). This year, American celebrated its 25th anniversary of chartered service between the two countries.
Delta operated charter flights between JFK and Havana from 2002-2004. Beginning in October 2011, Delta began operating up to a dozen charter flights each week from New York, Atlanta, and Miami, with daily service from Miami and weekly service between Atlanta and New York. The airline had flown near 500 flights before ceasing the service in December of 2012.
US and Cuban Government Ruling To Resume Air Service
In December 2015, the United States and Cuban governments established a bilateral agreement for scheduled commercial service between the two countries. At the time, the US Department of State issued a release stating that "this arrangement will continue to allow charter operations and establish scheduled air service, which will facilitate an increase in authorized travel, enhance traveler choices, and promote people-to-people links between the two countries."
The major United States commercial airlines received this news with open arms. "This is great news for our customers as it brings us one step closer to connecting the U.S. and Cuba with scheduled air service," said American's CEO Doug Parker. "As the leading carrier to the Caribbean and the leading U.S. airline to Cuba, we look forward to establishing scheduled service to Cuba in 2016, from Miami and other American hubs. We appreciate the Administration's efforts and the hard work of the U.S. negotiators to reach this arrangement."
Chicago-based United also reacted to the news saying, "United Airlines congratulates the U.S. and Cuban governments on reaching this historic arrangement, which will strengthen ties and economic development between the two countries. We look forward to offering service between our global gateways and Cuba as soon as we have approval to do so."
Under the new agreement, US airlines were able to bid for routes between the US and Cuba, with a maximum of 110 flights per day. However, only 20 of those daily frequencies would be to Havana, while the rest would be to other cities on the island. Twelve US carriers, including Alaska, American, Frontier, JetBlue, Southwest, Spirit, and United applied for service (cargo and/or passenger) either between cities in the US and Havana or cities in the US and other cities in Cuba, where there is presumably less demand.
On Aug. 31, 2016, the United States Department of Transportation (DOT) issued a final decision regarding which carriers received slots to this highly contested city of Havana. The DOT chose cities with the intent of "best maximiz[ing] public benefits by addressing a variety of public interest needs." The DOT also selected cities with a large population of Cuban-Americans, with the thought that these cities would benefit the most from service. Also in the DOT's consideration was the promotion of competition between carriers by "diversifying the allocation among a variety of carriers and airports, including airports in certain aviation hub cities." This ruling required that airlines begin service within 90 days of this final issue order.
The Department of Transportation has summarized the carriers, routes, and frequencies in this table:
Twice daily (except once on Saturdays)
A Beginning of a New Era
JetBlue
On Monday, Nov. 28, JetBlue offered one of the first commercial flights between the US and Havana in more than fifty years. Fifty years ago, JetBlue didn't exist in the airline industry. However, the airline is now one of the leading carriers in the Caribbean and Latin American market.  Robin Hayes, President and Chief Executive Officer of JetBlue, stated, "We are proud to touch down in Havana today on the very first day of commercial service between the U.S. and Cuba's capital."
"This inaugural flight between New York and Havana is a milestone in this new era of progress between our two nations, and another tangible result of this state's successful trade mission to Cuba," said New York Governor Andrew Cuomo. "I congratulate JetBlue on this landmark accomplishment, which will help further ties and strengthen the economic relationship between New York and Cuba."
This launch to Havana marks another airline milestone: its 100th destination in 22 countries in the US, Latin America, and Caribbean regions. The airline also started service between Orlando and Havana on Nov.29, as well as service from Fort Lauderdale-Hollywood, as of Nov. 30.
The airline currently serves four destinations in Cuba. JetBlue began inaugural service between the US and Santa Clara in August, becoming the first US carrier to offer service between the two countries. The airline serves the cities of Camagüey and Holguín as well.
"We commend the work of both U.S. and Cuban officials for making today possible. We also commend the Cuban Ministry of Transportation, IACC, and the Havana Airport for entrusting us to operate this route and look forward to our long-term partnership as we continue to grow our presence in Cuba," added Hayes.
American Airlines
American Airlines had the first scheduled flight to Havana on Monday. The airline will launch an additional three daily flights between Miami (MIA) and Havana (HAV), as well as a daily flight between Charlotte (CLT) and Havana. The MIA-HAV (AA17) flights will be operated with a 737-800, while the CLT-HAV flights will be operated by an Airbus A319 aircraft.
The airline now operates 13 daily flights to six destinations in Cuba.
United Airlines
United's first commercial flight from Newark, New Jersey (EWR) to Havana departed on Tuesday. The airline will offer daily non-stop flights from EWR, as well as weekly Saturday service from its gateway to Latin America in Houston (IAH). Both these services will be operated by a 737 aircraft. The New York/New Jersey area has the second largest population of Cuban-Americans in the United States.
"This is something that two generations of Cuban-Americans have dreamed of, and we couldn't be more proud to be the airline that provides them with the service to their homeland," said Steve Morrissey, United's Vice President of Regulatory and Policy. "Today's Newark to Havana flight will be the culmination of many months of hard work, planning and anticipation. It's truly a day to celebrate."
Delta Air Lines
Delta's first daily service to Havana started today from Atlanta, New York (JFK), and Miami. "Today, we celebrate our long-awaited and historic return to Cuba, and we reaffirm our thanks to Secretary Foxx and his team as well as the U.S. State Department for granting us the authority to operate this service," said Nicolas Ferri, Vice President – Latin America and the Caribbean. "This December, we look forward to serving customers with the excellent customer service and operational performance they expect from Delta while reuniting families and supporting a new generation of travelers seeking to engage and explore this unique destination."
Frontier Airlines
As of Dec. 1, Denver-based low-cost carrier, Frontier, began direct service between Miami and Havana, with the intent of providing customers with one-stop connections from key cities such as Denver and Las Vegas. This service will be daily. "We're excited to begin our first ever service to Cuba" said Daniel Shurz, Senior Vice President – Commercial. "Our Low Fares Done Right business model will give people the best option in affordable air travel to this fascinating new destination."
These services will be operated by Frontier's A320 aircraft. As of now, three airlines (American, Delta, and Frontier) operate direct, daily flights between the United States' city with the most Cuban-Americans and the capital of Cuba.
While commercial service is available between the two countries, traveling for tourism is still not allowed under US and Cuban regulation. Travel to Cuba must fall under one of the 12 approved categories authorized by the U.S. Department of Treasury's Office of Foreign Assets Control (OFAC) which include journalistic purposes, education and more.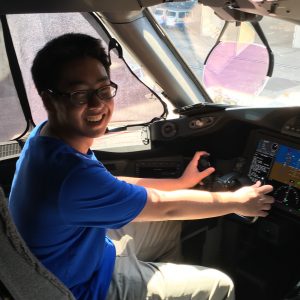 Ever since he made his first trip on a Boeing 747 in 2005, Samuel has been an AvGeek at heart. He is a dedicated United (ex-Continental) loyalist and frequent flier who attempts to live by Continental's slogan, "Work Hard, Fly Right." He has a huge love for the Boeing 777 along with any other Boeing wide body aircraft. Samuel is an avid collector of all types of airplane memorabilia ranging from model airplanes to in-flight magazines. In his free time, Samuel enjoys playing guitar and piano, and he is constantly on various airline websites scanning for any breaking news.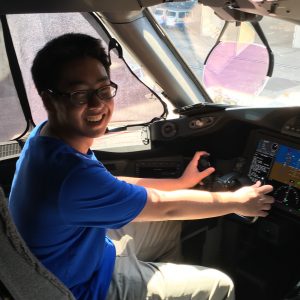 Latest posts by Samuel Chen (see all)