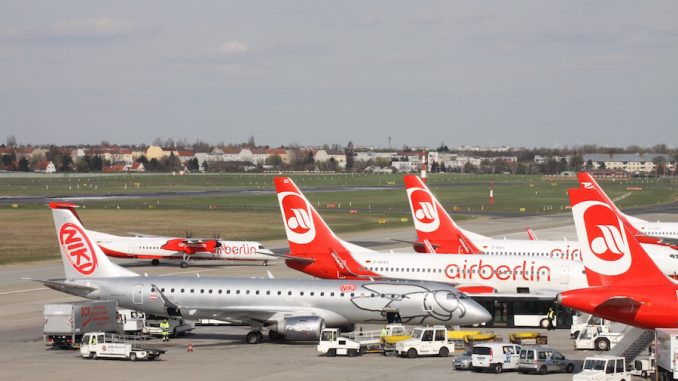 The remains of recently failed airline Air Berlin are now being auctioned off. The fleet has long been sold off to Lufthansa and Easyjet, but everything that was inside the planes is now up for grabs. This includes seats, galley carts, blankets, amenity kits, and of course, the famous Air Berlin chocolate hearts every passenger received when deplaning after a flight.
The auction takes place online, offering 50,000 registered individuals the opportunity to bid on the remnants of Germany's former second largest airline. Bidders can also go to the warehouse in the west-German city of Essen to get a first-hand impression of the items they may be bidding on.
An Emotional Attachment
Air Berlin went bankrupt in August of 2017, leading to emotional reactions from staff and travelers alike. Obituaries of the airline spread across social and mainstream media, while the government began expressing concern about the fate of the company's 8,000 staff. The last Air Berlin flight landed on October 27 in Berlin, but only after the pilot took the aircraft on a low flyover of Tegel Airport.
While the airline was unable to survive financially, it appears that it had and still has some very dedicated fans. These fans are prepared to pay impressive – and disproportionate – amounts of money to get their hands on several pieces of Air Berlin memorabilia. A galley cart has an average bidding price of around $1,800, a set of 2 blankets attracted bids of $200, and business class seats are priced at $2,100. You can even bid on a giant model aircraft with a minimum bid of $8,000.
A Fond Memory of Chocolate Hearts
The items attracting the most interest, however, are the chocolate hearts, closely associated with the Air Berlin brand itself, and more unique to the company than its seats and trolleys. The palm-sized chocolate hearts are bright red, displaying an airplane and the Air Berlin logo.
Almost everyone who ever flew with the airline will remember the flight attendants standing by the exit doors with a basket full of these chocolates, happily wishing customers a good day. Most hearts never survived the walk to the baggage claim.
This may explain their almost cult-like status now. The going rate for a box of 100 Air Berlin hearts is around $500 on Ebay, a significant amount more than your average box of Hershey chocolates. The bankruptcy auction has already said that it expects to fetch similar prices for them.
One auctioneer, Jan Broker, was surprised, stating "I don't know who is bidding on the chocolates, whether it is Air Berlin's biggest fan or a speculator hoping to flip them for a profit."
The auction is set to run into February, and over 10,000 bids have already been placed.
Adrian joined AirlineGeeks as a writer in 2017. He had always wanted to become a pilot and while he chose a different career path for now, his interest in aviation continues to grow every day. Adrian was fortunate to travel extensively for business in the past five years. As a result, he focuses his research and writing on passenger services and experiences on a variety of airlines. His favorite aircraft include the Airbus A350, A380, and the Embraer passenger jets.
Latest posts by Adrian Vannahme (see all)