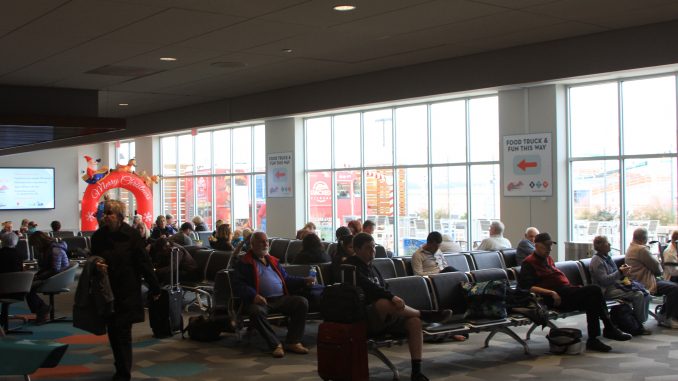 Two days ago, someone sent me a video of a woman screaming at a JetBlue gate agent at Fort Lauderdale-Hollywood International Airport. Although I'm a journalist, I'm also a former airline agent and have been a victim of angry passengers many times to a point of losing sleep and feeling frustrated with my job. I had to educate myself to become a better professional and to learn how to deal in situations like that since it is part of the job.
What really upsets me, however, is the unfair coverage given by many sensationalistic media outlets about airline customer service. Many times, they show only one side of the story and ignore some important rules of good journalism. I am not saying that airlines are always right but I am saying that it is important to learn about the whole story and provide more fairness to articles about airline customer service. I have been on both sides of the counter the same way that many airline agents have.
Sometimes, the Passenger Is Wrong
One thing that came to my mind when I heard that Herb Kelleher, the former Southwest Airlines CEO, had passed away was a statement he made saying that "sometimes the passenger in wrong." This sentiment goes directly against the adage of "the customer is always right." What courage it took to make this insightful statement.
I have talked to many people who travel and they love to tell bad stories about airline personnel or other bad things about airlines. Most of the time, I start asking questions and I realize that the story is not the actual story. Many passengers edit their stories to look like victims but a more accurate investigation may show that the passenger was wrong.
I read once that "to make mistakes is human and blame someone else is more human." A passenger once apologized to me and said that he was not mad with me but he was mad with himself because he made a mistake. He was just trying to blame someone else. After cooling down, he was honest.
I have considerable experience and training in airline customer service. I see often airline personnel doing their best, walking the extra mile and helping any way they can. Most airline agents I know are good people with good heart and always willing to help. I have seen many agents conducting amazing acts of kindness and gentleness. The media and many passengers ignore this side of airline customer service in general. Some people do not even feel recognized by their airlines.
Doing Their Best or Doing What Is Possible
One of the frustrations in airline customer service is that agents want to do their best but they can only do what is possible. I have been in situations where airline agents wanted to be able to help more but they cannot change the weather, do illegal things or act in a dishonest way. Airline agents need to follow procedures and rules.
It is important to understand that the person trying to help you, many times is not the one who caused the problem. The reality is that some passengers are just hard to help. Some are just unhappy people looking for someone to dump their emotional garbage and you're the nearest target.
Be Polite and Find the Right Person to Complain To
Sometimes airlines are wrong but remember that there is a right way to complain and the right person to complain to. I always tell people who are traveling that if they have any problem, ask the right question to the right person at the right time. I remember a situation when a passenger was complaining because someone with a badge at the airport sent him to the wrong gate. He just asked the wrong person.
Find who has authority and knowledge to solve your problem, wait for the person to be available to give you attention and be able to explain what happened in an honest way. These simple rules will help you anywhere. Politeness and good manners will increase your chances of having your problem solved.
On a Lighter Note…
A man was observing a passenger being rude and aggressive with a check-in agent at the airport but the whole time the agent was polite and calm. The observer was curious and after the passenger left, he went to talk to the agent. He was impressed in how she was calm and polite the whole time. The agent said, "It was easy, the passenger is going to London but I am sending his bags to Singapore."        
Peter Biondi has a degree in journalism and a master's degree in airline/airport management from Embry-Riddle Aeronautical University. He is a former professor of Airline Management, Airline Marketing, Airport Management, Aviation safety, and Introduction to the Aviation Industry. He is an IATA instructor in airline business foundation. He has worked as an aviation consultant, analyst, researcher, journalist and professor. His professional experience includes Varig – Brazilian Airlines, KLM, and British Airways. Before moving to the US, he lived in Europe and South America. He is fluent in English, Spanish, Portuguese, French and Italian.
Latest posts by Peter Biondi (see all)