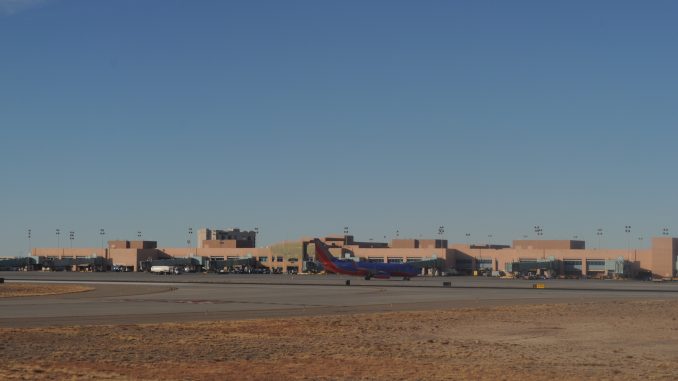 Since the creation of the first airport in 1909 by Wilbur Wright, cities in the United States have come together to create one of the most expansive airport systems in the world. Over the next few months, our writers have taken an in-depth look to see what airports each state has to offer, what its history entails, and what changes we can expect in the future that will continue to shape the airline industry.
New Mexico is the 47th State of the United States of America and was admitted to the Union on January 6, 1912. The state features five airports of interest that provide access mainly to the major airline hubs across the country.
MAJOR AIRPORTS

Albuquerque International Sunport – Bernalillo County, New Mexico
Albuquerque International Sunport is New Mexico's biggest airport, carrying over 4.7 million passengers per year. The airport's history started in 1935 when the state gained over $500,000 in state funding to open what was known as Albuquerque Municipal Airport by 1939. The airport started with a hangar that would accommodate TWA's Boeing 307 aircraft. By 1957, TWA was providing 12 flights per day to New Mexico. Other airlines such as Continental & Frontier also provided another 17 daily flights to bring the count to 31. By 1995, the airport's daily commercial flights peaked at 163. However, in 2015, the number of daily flights has nearly halved following a passenger demand shortage.
From a commercial traffic perspective, many carriers operate out of the Sunport. Alaska Airlines, Allegiant Air, American, Boutique Air, Delta, JetBlue, Southwest & United operate flights from the airport to destinations such as Seattle/Tacoma, Austin, Las Vegas, Los Angeles, Dallas/Fort Worth and many other American destinations. From a cargo perspective, carriers such as Ameriflight, FedEx and UPS operate services to mainly regional destinations such as Alamogordo, Farmington, Gallup, Las Cruces, Hobbs, Durango and more. Currently, Southwest Airlines has monopolised the airport having 54% of market share as of June 2016.
Santa Fe Municipal Airport – Santa Fe County, New Mexico
Having opened in 1941, Santa Fe Municipal Airport carries on average 150,000 passengers per year, making it New Mexico's second biggest airport. Featuring three asphalt runways, the airport has had a very turbulent decade in the aviation industry. Between 2007 and 2009, the airport had no commercial service operations, relying on General Aviation for funding. In June 2007, the airport was given "Class 1 Status" in order to enable regional jet flights to potentially occur. In 2009, after the completion of environmental assessments of the airport, American Eagle initiated services to Los Angeles and Dallas-Fort Worth.
The duopolized airfield hosts American Eagle and United Express. American Eagle no longer operates to Los Angeles and replaced that route with Phoenix-Sky Harbor which was launched in December 2016. They do however still operate to Dallas Fort-Worth. United Express only has one service to Denver. 89% of all air traffic from the airfield is counted as General Aviation movements and the airfield averages 25,000 aircraft operations per year.
OTHER AIRPORTS
Roswell International Air Center – Chaves County, New Mexico
Roswell International Air Center doesn't have much of a commercial presence, but has been host to some significant events in aviation. The airport's main presence was during the Second World War as Roswell Army International Airfield and renamed as Walker Air Force Base during the Cold War. Roswell is also known for the controversial "Roswell UFO Incident", which apparently occurred in July 1947. The airport serves as a storage facility for a number of aircraft that American Airlines has retired in the past few years such as their Airbus A300-600R's and more than 20 McDonnell Douglas MD-80's that the carrier retired in August 2016. Furthermore, the airport gained some media spotlight in October 2012 when Felix Baumgartner used the airport to launch his capsule to space to do a record-breaking freefall jump from 127,851 feet.
On a commercial basis, American Eagle is the only carrier to operate from the airfield with flights to Dallas/Fort-Worth and Phoenix/Sky Harbor. History of commercial aviation from the airport dates back to 1944 when Continental Airlines launched services to Denver-San Antonio via Roswell using Lockheed Model 18 Lodestar aircraft. The airport features two asphalt runways and averages over 70,000 aircraft operations per year with over 40 aircraft based at the field.
Cavern City Air Terminal – Eddy County, New Mexico
Formerly known as Carlsbad Army Airfield, Cavern City Air Terminal is served by only one commercial airline, thanks to the Essential Air Service (EAS) program. The airfield itself, which features four asphalt runways, hosts at least 18 flights per day, with 53% of that counting towards General Aviation traffic.
The airport's commercial services date back to 1940 when Continental Airlines provided flights to El Paso and Denver using their Lockheed Model 10 Electra's and Lockheed Lodestar's which then developed into the Douglas DC-3 after passenger demand increased. Nowadays, the airport doesn't see the mainstream commercial carriers due to its listing as a "General Aviation Facility." Boutique Air uses Pilatus PC-12's for their commercial operations out of Cavern City and also flies to Albuquerque and Dallas-Fort Worth.
Clovis Air Municipal – Curry County, New Mexico
Clovis Air Municipal, which features two asphalt runways  & one turf runway, has a history dated back to 1929 when Transcontinental Air Transport used a Ford Trimotor on services between Clovis and Los Angeles with stops in Kingman, Winslow & Albuquerque. The year 1948 saw Pioneer Airlines begin serving Clovis on flights between Albuquerque and Dallas using Douglas DC-3's before upgrading to the 36-seater Martin 2-0-2 by 1952. Great Lakes Aviation was the final commercial carrier to operate out of the airport using Beechcraft 99 & Beechcraft 1900 aircraft on routes to Amarillo and Denver before Boutique Air took over in July 2014.
Currently, Boutique Air operates flights to Dallas/Fort-Worth from the airport three times per day using their Pilatus PC-12 aircraft. There are currently no scheduled cargo operators that fly from the airport. Clovis Airport benefits greatly from General Aviation traffic, with 89% of their 27,000+ aircraft operations per year being from General Aviation.
Overall, New Mexico is a state that has significant aviation presence and is host to certain important events that have occurred thanks to the help of the aviation industry. Their history spans back over 90 years and continues to thrive, especially in the municipal and regional market.
James is a passionate AvGeek who has been actively spotting for years. James has been an Aviation Enthusiast for 7 years and has a fond likening to Concorde! James hopes to grow in the aviation industry with journalism being his primary focus.
Latest posts by James Field (see all)