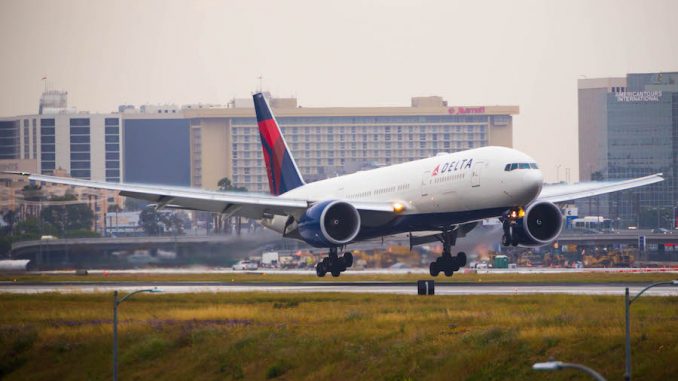 Since the creation of the first airport in 1909 by Wilbur Wright, cities in the United States have come together to create one of the most expansive airport systems in the world. Over the next few months, our writers have taken an in-depth look to see what airports each state has to offer, what its history entails, and what changes we can expect in the future that will continue to shape the airline industry.
The state of Georgia was the 4th State to be admitted to the Union on January 2nd, 1788. Popular for the city of Atlanta, Georgia has significant aviation presence, not just in the national market but also in the international market.
Major Airports

Hartsfield-Jackson International Airport – Atlanta, Georgia
Hartsfield-Jackson International Airport is a key player in the aviation world. The airport was listed as one of the world's busiest airports again back in July 2016 carrying over a staggering 101 million passengers per year. The airport's history began as Candler Field over 90 years ago when land from the old Atlanta Speedway was taken over by Mayor Walter Sims in April 1925. One year after signing the lease, September 1926 saw Florida Airways operating mail flights to Jacksonville, Florida. In 1928, carriers such as Pitcairn Aviation (famously known as Eastern Airlines) and Delta Airlines started flying from the airport. By the 1930's, the airport was the third busiest in America behind New York and Chicago for daily flights, featuring 16 aircraft arriving and departing per day. By October 1940, Candler Field was declared as a military airbase where squadrons such as the 30th Tactical Reconnaissance Squadron (Equipped with Douglas O-38 biplanes and Stinson L-1's) and the 128th Observation Squadron. 1946 saw the airfield being renamed as Atlanta Municipal Airport. By 1948, the field was already transporting over one million passengers.
In 1956, saw airport received it's international status when Eastern Airlines launched the first international flight to Montreal, Canada. By 1964, trans-Atlantic services were in full swing with non-stop services by 1978. The airport also inaugurated flights to Asia by 1992. Looking at the present day, the airfield has five concrete runways (labeled 8L/26R at 9,000 feet, 8R/26L at 10,000 feet, 9L/27R at 12,390 feet, 9R/27L at 9,000 feet, and 10/28 at 9,000 feet) and handles over 880,000 aircraft operations per year. Out of the 101 million passengers travelling out of the airport per year, only 11.2 million are international passengers travelling with carriers such as Air Canada, Air France, British Airways, KLM, Korean Air, Lufthansa, Qatar Airways, Turkish Airlines and Virgin Atlantic on services to London-Heathrow, Manchester, Amsterdam, Seoul, Frankfurt, Doha, Paris and many other destinations.
On a domestic level, carriers such as Alaska Airlines, American, Boutique Air, Contour Airlines, Delta, Frontier, Southwest, Spirit, and United offer services to over 90 million passengers that fly domestically around the U.S to over a hundred airports. The cargo portfolio out of the airport is also significantly varied. Carriers such as Aerologic, AirBridgeCargo, Asiana, ASL Airlines Belgium, CAL Cargo Airlines, Cargolux, Cathay Pacific Cargo, China Airlines Cargo, China Cargo Airlines, EVA Air Cargo, Emirates SkyCargo, Korean Air Cargo, Lufthansa Cargo, Qatar Airways Cargo, Singapore Airlines Cargo and Turkish Airlines Cargo offer a vast range of international cargo services to mainly destinations across mainland America and Europe. Domestic cargo carriers such as DHL Aviation under the ABX Air, Air Transport International, Atlas Air and Polar Air Cargo also operate a vast amount of services to Cincinnati, Miami, and other cargo hubs.
The airport recently embarked on a $6 billion expansion to update its domestic terminals and other facilities. This will help Hartsfield-Jackson International Airport continue to remain one of the world's leading airports.
Savannah/Hilton Head International Airport – Chatham County, Georgia
Moving away from the world's busiest airport and into Savannah is the Hilton Head International Airport, a more domestically-focused airport. The field has two concrete runways (labeled 10/28 at 9,351 feet and 1/19 at 7,002 feet) and handles over 80,000 aircraft operations per year from just over two million passengers yearly. This airport's particular history began as Chatham Army Airfield in 1942 as it was used for the U.S Army Air Corps using Boeing B-24 bombers for training exercises. By 1948, the airport was renamed, Travis Field after the late General Robert F. Travis who was killed in a B-29 near Fairfield-Suisan Air Force Base, California. 1958 saw the field expand into the commercial market when work began on a new airline terminal as well as an additional extension on the east/west runways just in time for the start of the jet age in 1965. That year, Delta Airlines introduced flights using Douglas DC-9 aircraft. The terminal had six gates to start with and then built a $21 million terminal building near the northwest corner of the airfield to help create more space. Even though the airport does not have any international flights, the airfield was renamed to Savannah/Hilton Head International Airport in 2003.
Savannah's commercial portfolio sees Allegiant Air, American Eagle, Delta, JetBlue, Sun Country Airlines & United operating to destinations such as Baltimore, Cincinnati, Indianapolis, Columbus-Rickenbacker, Lexington, Pittsburgh, Charlotte, Dallas, Philadelphia, Washington-National, Atlanta, JFK, Detroit, LaGuardia, Minneapolis, Boston, Chicago and Newark. Air Canada Express will, however, be the first international carrier out of the airfield with services to Toronto-Pearson beginning in May 2017. Cargo carriers see the duopoly of FedEx Express and UPS Airlines operating flights to Memphis and Columbia, South Carolina.
Other Airports
Augusta Regional Airport – Richmond County, Georgia
Augusta Regional Airport is a public-owned airport seven miles to the south of Richmond County. The field has two asphalt runways (labeled 17/35 at 8,000 feet and 8/26 at 6,001 feet) and averages over 30,000 aircraft operations per year. The airfield's history began as Bush Field in 1941 when the United States Army Air Corps were looking for a site to place a Contract Pilot School. Flight training began in June 1941, training students to fly Vultee BT-13 Valiants and BT-15 aircraft over the course of ten weeks. Training consisted of 70 hours in the air and 150 hours on the ground. The school was at full capacity by 1943, training over 160 students. By the end of the war, they had trained over 5,000 students.
On a more commercial aspect, the 1950s and the 1960s were the times in which the airport grew thanks to the old flight school barracks being renovated and leased to Continental Hotels. However, the 1970s were the airport's major growth period as Capitol Aviation of Georgia, now known as Landmark Aviation, developed facilities that specialized in jet engine repair, avionics-navigation stores, and a structural systems service facility. By the 1990s, the field was contributing around $290 million in economic value to the area as well as providing 2,200 jobs. In 2000, Bush Field was finally renamed to Augusta Regional Airport. 2008 saw the airfield average around seven daily commercial departures to Atlanta using Delta Connections' Bombardier CRJ-200 and ATR-72 aircraft followed by an additional seven flights from US Airways Express to Charlotte using Bombardier Dash 8-300s and Bombardier CRJ-200s. May 2011 saw mainline Delta Airlines operate flights out of Augusta after an 11-year absence. The Masters Golf Tournament is a popular hotspot for flyers to this airport as airlines provide flights with much larger equipment. Delta sends in Boeing B737s and B757s as well. Nowadays, only American and Delta operate routes to Charlotte, New York-La-Guardia, Philadelphia, Washington-National and Atlanta. There are no cargo carriers to date that operate out of the field.
Athens Ben Epps Airport – Clarke County, Georgia
Named after Ben T. Epps, the first aviator in Georgia and the person who opened the field in 1917, the airport is public-use and located three nautical miles to the east of the business district of Athens, Clarke County, Georgia. The airport has two asphalt runways (labeled 9/27 at 6,122 feet and 2/20 at 3,995 feet) and averages around 1,000 enplanements per year. The airport has taken a turbulent turn over the past few years in terms of the commercial perspective. After the demise of SeaPort ran under the Essential Air Service Program, the airport's enplanement numbers dropped by over 56%. May 2008 was the beginning of the demise when flights to Charlotte on Air Midwest operated by US Airways Express came to a stand still.
At the time, SeaPort was the only carrier operating scheduled commercial services to the field, featuring daily flights to Nashville due to GeorgiaSkies ceasing operations one year after the award was assigned. There was no reason for the demise of GeorgiaSkies. A press release in the late summer of 2012 stated that they were to operate out of the airport until they found a replacement carrier, that being SeaPort in the end.
Overall, the four airports highlighted in this State Series show the interesting and significant aviation history that the state has as well as a promising future with Atlanta's passenger numbers consistently remaining the highest in the world.
James is a passionate AvGeek who has been actively spotting for years. James has been an Aviation Enthusiast for 7 years and has a fond likening to Concorde! James hopes to grow in the aviation industry with journalism being his primary focus.
Latest posts by James Field (see all)