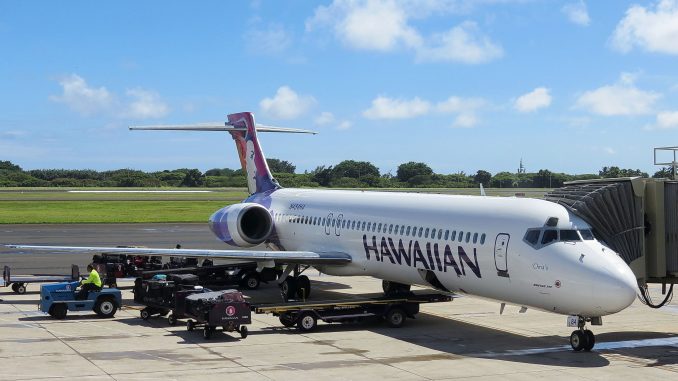 Since the creation of the first airport in 1909 by Wilbur Wright, cities in the United States have come together to create one of the most expansive airport systems in the world. Over the next few months, our writers have taken an in-depth look to see what airports each state has to offer, what its history entails, and what changes we can expect in the future that will continue to shape the airline industry.
The beautiful, scenic island of Hawaii is the 50th and final state to be admitted into the Union of the United States, and is the final addition to our State Series Snapshot. Hawaii was admitted to the union on August 21, 1959. Although the island is small, the state contains four very busy airports that keep the state's economy flowing.
Honolulu International Airport – Oahu, Hawaii
Honolulu International is Hawaii's largest airport, carrying over 21 million passengers per year on average with six runways, four asphalt and two water (labelled 4L/22R at 6,952 feet, 4R/22L at 9,000 feet, 4W/22W at 3,000 feet, 8L/26R at 12,312 feet, 8R/26L at 10,000 feet and 8W/26W at 5,000 feet), and carries over 400,000 metric tonnes of cargo yearly. The airport was opened in March 1927 as John Rodgers Airport, named after a World War I naval officer. During the second World War, the U.S Military grounded all civil aircraft and became Naval Air Station Honolulu, featuring a new control tower and terminal building. During the daylight hours, some commercial aircraft were allowed to begin service. The airport was renamed Honolulu Airport in 1947, and was given International status by 1951. By the 1950's alone, Honolulu was the third busiest airport in the U.S for aircraft operations. International commercial history was made in 1959 when Australian carrier Qantas launched services to Honolulu on flights between Australia and California respectively.
Honolulu's airline portfolio is something that is spectacularly varied. As well as the national carrier, Hawaiian Airlines, having a hub, carriers such as Air Canada Rouge, Air China, Air New Zealand, Alaska Airlines, All Nippon Airways, Asiana, China Airlines, China Eastern, Fiji Airways, Japan Airlines, Jetstar Airways, Jin Air, Korean Air, Philippine Airlines and Qantas operate internationally to destinations such as Seoul, Melbourne, Sydney, Nagoya, Tokyo, Manila, Shanghai, Taipei, Vancouver and Toronto, respectively. National carriers such as Allegiant Air, Delta, United and Virgin America operate flights to San Francisco, Los Angeles, Chicago, Denver, Houston, Newark, Washington-Dulles, Las Vegas and many more American destinations. New carriers such as 'Ohana by Hawaiian, operated under the Empire Airlines name, will launch flights between Kapalua, Lana'i and Molokai in January 2017.
Cargo carriers are also quite varied for the airport as well. Aloha Air Cargo and Transair operate local cargo flights to Hilo, Kahului, Kailua-Kona, Lihue, Lanai, Waimea-Kohala as well as services to Las Vegas and Los Angeles, whilst carriers such as Asia Pacific Airlines, Corporate Air, Polar Air Cargo, FedEx, Kalitta Air and UPS Airlines operate flights to Guam, Kiritimati, Kwajalein, Majuro, Pago Pago and many more destinations. Honolulu also has fixed-base operators at the field. Makani Kai Air Charters and Te Mauri travel operate charter flights to Kalaupapa, Molokai and Kiritimati respectively. Recent history has shown as a shift in the airport away from domestic traffic, and more toward international service. This can be partially attributed to Hawaiian Airlines and Asian carriers such as Al Nippon Airways launching more service to and from the island nation.
Kahului Airport – Haleakala, Hawaii
Carrying an average of 3.5 million passengers per year, Kahului Airport is Hawaii's second largest airport. The airport has two asphalt runways (labelled 02/20 at 6,995 feet and 05/23 at 4,990 feet) and one asphalt Helipad (labelled H1 at 125 feet). The airport averages over 100,000 aircraft operations per year and carries over 35,000 tonnes of cargo. Kahului's commercial history began slowly in the 1950's after the airport slowly developed, following military conversion and commercial involvement. The airport started receiving non-stop commercial traffic in the 1980's and 1990's when large passenger aircraft such as the Airbus A330, Boeing B767, Boeing 777 started becoming a regular sighting at the airport.
Kahului's commercial portfolio isn't as large as Honolulu's, but it has focused on quite a few mainstream U.S. carriers. For example, American Airlines, Delta, United & Virgin America operate services to Dallas, Los Angeles, Pheonix, Seattle, Denver, San Francisco & Chicago, thus linking the airport with important American destinations and connection points. Air Canada & Rouge operate services to Calgary and Vancouver and compete directly with WestJet who provide services to the two destinations as well as Edmonton. Hawaiian Airlines operate services to Hilo, Honolulu, Kailua-Kona, LA, Lihue, Oakland, San Francisco, San Jose and Seattle whilst domestic carriers such as Island Air, Mokulele Airlines & Empire Airlines operate services to Hana, Kalaupapa, Kapalua, Waimea-Kohala and many more destinations.
Kona International Airport – Hawai'i County, Hawaii
Having only one asphalt runway (labelled 17/35 at 11,000 feet) and carrying over 2.8 million passengers per year, Kona International Airport is a fairly busy airfield, averaging around 400 plus movements per day. What is very unique about this airport, in particular, is its history. Most of the runway was built on a source of a recent lava flow, known as the Hu'ehe'e flow from Hualālai which recently flowed in 1801. The airport opened in 1970 and carried over half a million passengers in the first full year of operation. The runway was expanded in 1994 to its current specification of 11,000 feet. The airport is capable of handling at largest the Boeing 777 for commercial traffic and the Boeing C-17 Globemaster for military use.
The same carriers from Kahului operate at this airport also but with more of an expansive route portfolio. For example, Alaska Airlines has significant operations from this field in particular, with services to Oakland, San Diego, San Jose, Seattle, Anchorage, Bellingham and Portland respectively. Hawaiian Airlines also launched their first international route from the field to Tokyo-Haneda back in December 2016, with American Airlines launching new seasonal service to Dallas back in December 2016. Other carriers such as Kona Shuttle operate charters to Oakland, thus being in direct competition with Alaska Airlines & Hawaiian Airlines. Air Canada Rouge and WestJet are also in competition at this airport with seasonal services to Vancouver.
Lihue Airport – Kauai County, Hawaii
The final airport of interest in this State Series is Lihue Airport. Featuring two 6,500 feet asphalt runways (labelled 3/21 and 17/35), the airport averages over 2.5 million passengers per year from over 128,000 aircraft operations. The field is also quite busy, averaging 285 movements per day. An interesting point about this airport is that the airport required a runway extension in order to comply with rules stated by the Federal Aviation Administration, as there was not enough buffer room for any potential overshooting of aircraft. If they didn't comply, then there would be chances of aircraft overshooting the runway and heading into open water. The FAA provided $400,000 for this which enabled an extra 855 feet of runway to provide the standard 1,000-foot runway safety area. The project was completed in November 2016.
Alaska Airlines, American Airlines, Delta, Hawaiian, Island Air, United and WestJet are the main carriers that operate out of the field on services to Oakland, San Diego, San Jose (CA), Seattle, Portland, Los Angeles, Phoenix, Honolulu, Kahului, Denver and Vancouver. Over 660,000 passengers per year travel to Honolulu from the field with Hawaiian. At least 48% of all traffic from the airport is classed as Air Taxi, with 26% being scheduled commercial, 23% general aviation and 2% being military.
Overall, Hawaii concludes the State Series Snapshot with some significantly large airports for such a small island in terms of space for aviation development. Hawaii is a hotspot not just for passengers in a leisural perspective, but is a hot-spot for connection points to Asia.
James is a passionate AvGeek who has been actively spotting for years. James has been an Aviation Enthusiast for 7 years and has a fond likening to Concorde! James hopes to grow in the aviation industry with journalism being his primary focus.
Latest posts by James Field (see all)