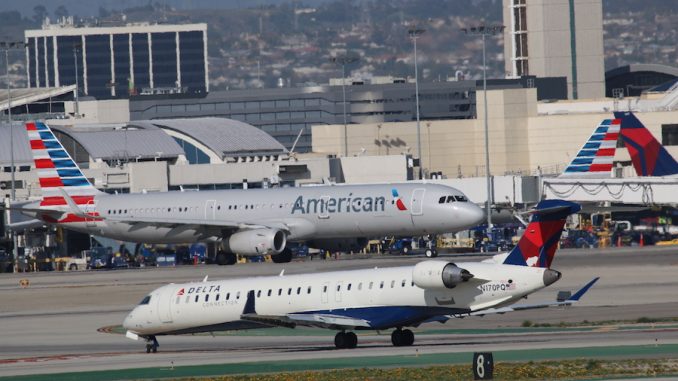 Major holidays like Thanksgiving and Christmas bring major traveling with them. People fly all over the world to see their family and friends during the holiday season. To accommodate the spike in passengers, airlines add more routes, make aircraft upgrades on busier routes, and run around the clock. Airlines for America estimated that over 28.5 million people were expected to fly onboard a U.S. airline between Friday, Nov. 17 and Tuesday, Nov. 28, estimating a three percent increase over 2016's numbers.
American Airlines and Delta Air Lines have already released their travel numbers for the popular travel holiday, Thanksgiving.
American Airlines
From Nov. 17 to Nov. 26:
American Airlines carried 5.5 million customers on a total of 55,463 flights. Four million bags were checked by passengers flying the airline. The Ft. Worth-based air carrier announced that November 26 was the airline's busiest travel day.
The company also boasts a three-day streak of no mainline cancellations.
"Millions of customers entrusted American Airlines with their Thanksgiving travel needs this year," read the press release from American. "We are thankful to them for choosing us and thankful to our 120,000 team members who took care of them."
Delta Air Lines
From Nov. 22 to Nov. 26:
Delta Air Lines carried 2.35 million customers on nearly 23,000 flights. Close to 1.7 million bags were checked in to the Atlanta-based carrier.
"Delta Employees are always committed to providing our customers with superior reliability and, during the holidays, it's even more important that we run the best airline operation in the industry," said Delta's Chief Operating Officer Gil West. "This weekend Delta people did what they do best— run a record-setting operation, ensuring our customers got to be with family and friends for the holidays."
Delta announced they operated Wednesday through Sunday without a single cancellation and had an on-time performance of 92.7 percent.
The holiday season continued an 11-day streak without a mainline or Delta Connection flight cancellation. The company has had a 42-day streak without a flight cancellation on a mainline aircraft.
Matthew Garcia became interested in aviation at the age of 12 when he installed Microsoft Flight Simulator X on his computer. He was instantly "bitten by the bug" and has been in love with aviation ever since. Matthew took his first introductory flight in 2013 and began normal flight training in February of 2015. Over the years, Matthew's love and knowledge for aviation has grown tremendously, mainly due to FSX. Garcia flies highly advanced aircraft in a professional manner on a highly complex virtual air traffic network simulating real world flying. In 2016 Matthew achieved his private pilot certificate from the FAA. Now he studies journalism at the University of Nebraska at Omaha.
Latest posts by Matthew Garcia (see all)