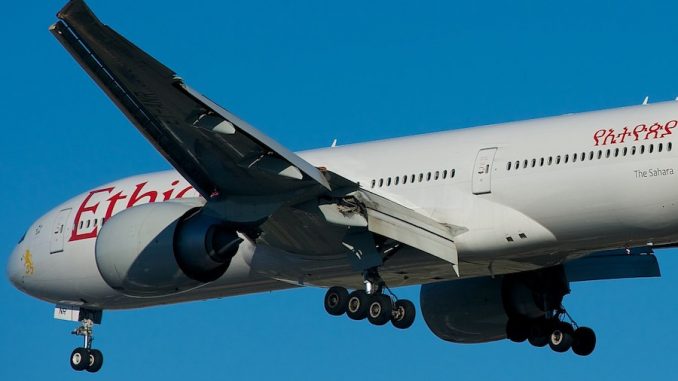 In a historic feat, Ethiopian Airlines operated the first ever intra-Africa with an all-female crew. The flight, Ethiopian Airlines flight 901, departed from Ethiopia's capital city Addis Ababa to Lagos, Nigeria. Female flight dispatchers, check-in staff, pilots and cabin crew were all involved for this historic flight.
The flight, operated by a Boeing 777 widebody aircraft, took around five and a half hours and was arranged by Ethiopian Airlines as part of a push to encourage women in Africa to pursue a career in aviation. Aviation is an industry which is currently dominated by men.
However, this was not the first all-female flight that the airline has operated. In 2015, Ethiopian operated an international service to Bangkok, Thailand, with a flight operated by the same female captain, Amsale Gualu.
Speaking of the flight, Gualu said: "This flight shows us that if women get equal opportunities and work hard, I'm sure they can achieve whatever they want in all fields including the aviation industry."
Like many pilots, Amsale Gualu's passion for aviation started at a young age. "When I was in high school, I used to be impressed by the pilot's uniform. And I guess that is where my passion for flying developed. After graduating from Addis Ababa University, I joined Ethiopian Airlines as a first officer." She told the press.
Speaking onboard the flight, an Ethiopian Airlines spokesperson said: "This is an ample opportunity to inspire young African female students to believe in their dreams and embark to fill the skill gap for aviation professionals."
The spokesperson continued by saying: "Women are the continent's greatest untapped resources, and hereby fully dedicated to ensuring the increased number of woman in decision-making positions on top of key operational areas by consistently grooming and mentoring successor female employees for top managerial, technical and operation positions."
The airline currently employs around 14,000 people, with a third of those being women. The majority of these women, however, work as cabin crew and check in staff, as opposed to flight crew and engineers. A scenario the airline is hoping to change with the help of events like these.
Other carriers have taken further steps to help increase female numbers. European low-cost carrier easyJet has been working hard to encourage women into aviation with the launch of the Amy Johnson Initiative back in 2015. Successfully doubling their female pilot intake from 6 to 12 percent, the airline sponsors dedicated, aviation-minded females to undergo their training before joining the airline. By 2020 the airline hopes to have 20 percent of all new entrant pilots to be female.
This move by Ethiopian will hope to boost the appeal of the industry to females in Africa, as well as help to globally promote women in aviation. Currently, only 3 percent of pilots worldwide are female, although it seems to be one of the professions that pay workers the same regardless of gender, aviation seriously lags behind other industries in terms of the male to female ratio.
Across the world, airlines and training organizations are actively trying to promote females into aviation who have the same aspirations and levels of dedication to flying as their male counterparts do. They also seek to reduce the stereotypical gender barrier, as well as the financial barrier, to raise the female population inside the flight deck.
This story was updated on Dec. 28, 2017 at 11:20 a.m. ET to edit the title that stated the trip was domestic. This is incorrect because the route connected Nigeria and Ethiopia. 
Josh is a long-term aviation enthusiast and aspiring commercial airline pilot. From a young age, he has immersed himself in all things aviation. From plane spotting at local airports and airfield to racking up frequent flier miles on trips abroad, Josh is a huge AvGeek at heart. He graduated from university in September 2017 with a first class Bachelor of Science degree in Air transport. He completed his pilot training, gaining his Frozen ATPL in November 2017 upon completion of his Multi-Engine Instrument rating and Multi-crew/Jet orientation course. He currently has around 230 hours of flying experience in various aircraft. He hopes to join an airline as a first officer by the end of 2017.

He frequently flies on one of his favorite airlines, British Airways, and is an avid Avios collector and British Airways Executive Club member.
In his spare time, while not studying, flying or immersing himself in aviation he enjoys spending his time volunteering in a variety of roles and running a blog to help other aspiring pilots pursue their dream.
Latest posts by Joshua Drabble (see all)