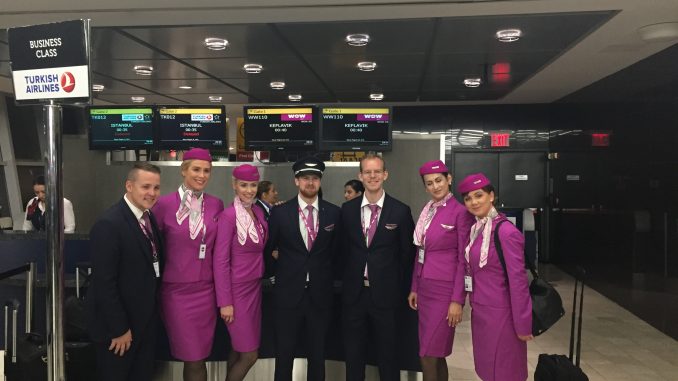 Since the introduction of numerous low-cost airlines to the transatlantic market, access to Europe has never been easier or cheaper. New fuel-efficient aircraft and low-cost business models have allowed for increased competition among low-cost carriers, with more and more starting up every year. This series will serve to give an in-depth overview on each of the airlines in the newly-formed and rapidly expanding low-cost transatlantic market: Norwegian Long Haul, LEVEL, WOW air, Primera Air, and Norwegian Air International.
Over the past few years, Icelandic airline WOW air has been slowly building up its presence in the United States and Canada. Having initially started as a mainly intra-European airline, similar to Norwegian, flying between Iceland and mainland Europe, the airline has grown into an up and coming player in the transatlantic market.
Under the direction of Icelandic tech entrepreneur turned airline CEO Skuli Mogensen, the airline flew its first flight in 2012, initially serving popular destinations in Europe. Less than a year later, the airline took over Iceland Express and started expanding. The airline received its Aircraft Operating Certificate in 2013 and started to acquire its own aircraft.
It wasn't, however, until 2015 did the airline first start flying to the United States. Using its brand new A321 aircraft, TF-MOM and TF-DAD, the airline started flying to Boston and Baltimore. This was still when low-cost carriers were new and while Norwegian was making all the noise in New York, WOW quietly moved into the secondary East Coast cities.
The airline was quickly expanding, starting service to the Canadian cities of Toronto and Montreal and, wanting to expand to the West Coast of the United States, acquired three Airbus A330-300 widebody aircraft to make the journey, as the Airbus A321neos that could make the journey had not yet been around.
Fast forward to today, the airline operates in 32 cities across three continents, with plans to expand to four more by the year's end. It's one of the fastest growing airlines in the transatlantic market and still one that most people have never heard of or are skeptical about trying.
Low-Cost Hub-and-Spoke
In contrast to some of the other airlines featured in this series, WOW air was the first low-cost long-haul airline to utilize a hub-and-spoke strategy for its low-cost business model. Traditionally, most low-cost airlines prefer the point-to-point model because it gives them more flexibility when assigning routes. With hub-and-spoke, most route changes will keep the hub airport, but with point-to-point, an airline's options are endless.
This is an important factor because low-cost airlines have a lower profit margin on their flights due to the low fares they charge. Selecting a hub is a large commitment, with potentially fatal implications for an airline. Pick the wrong hub with potentially unprofitable routes, you'll soon see yourself out of business, especially as a low-cost carrier.
However, where WOW air differs from the rest is that it has one hub through which every single one of its flights flies to, its home base of Keflavik International Airport in Iceland. This hub is immune from the issues that plague the traditional hub and spoke system due to its central location in the North Atlantic.
The strategy is simple; flights depart Iceland for North America in the evening, taking advantage of the time difference to arrive in the mid-evening, then they depart back for Iceland and fly overnight, arriving very early in the morning. Those early morning arrivals then turn around and depart for mainland Europe and beyond, perform a quick turnaround to fly back to Iceland and arrive in the late afternoon. Then, the aircraft depart to North America and do it all over again.
This connection strategy may sound familiar, and that's because WOW air isn't the first airline to take advantage of Iceland's strategic location to route people to and from Europe and North America. Icelandair was the first to pioneer this strategy, as we analyzed in January. WOW air, which began transatlantic operations just three years ago, has been riding the coattails of Icelandair's success, with its own spin on the strategy.
Competition with Icelandair
Before WOW air began operating on the transatlantic market, Icelandair was always regarded as the cheapest way to fly to Europe. The airline had, and still has, moderate fares between the two continents, likely to make up for the stop in Iceland and lack of non-stop flights between mainland Europe and North America. However, now that WOW air is on the scene, it's been beating Icelandair in fares.
Although they have the same connection strategy, the two airlines differ enormously as Icelandair is a full-service airline and WOW is a low-cost airline. They also differ slightly in route structure and largely in their fleets.
Fleet
In line with the traditional low-cost carrier business model, WOW has a fleet comprised of solely Airbus aircraft. The fleet consists of the Airbus A320, Airbus A320neo, Airbus A321, Airbus A321neo and the Airbus A330-300, with four of the next generation Airbus A330-900neo aircraft also on order. The all-Airbus fleet allows for lower costs in terms of pilot training and aircraft maintenance due to similarities on aircraft across the fleet.
Icelandair is an all-Boeing carrier with its fleet of Boeing 757-200, Boeing 757-300, Boeing 767-300ER and, as of this April, Boeing 737 MAX 8 aircraft. The airline utilizes an all-Boeing fleet for largely the same reasons that WOW air utilizes an all-Airbus fleet. But as Iceland is split between North America and Europe, as are its airlines, with Icelandair favoring North American-based Boeing and WOW air favoring European-based Airbus.
The workhorses of the WOW air and Icelandair fleet, the Airbus A321 and Boeing 757-200, respectively, are very similar in terms of their abilities. Both aircraft have comparable range, seating capacity, and cargo capabilities, with the Boeing 757, historically, having a slight advantage in all three categories.
However, the increased fuel efficiency and lower operating costs of the Airbus A321 with Sharklets and its neo variant has converted traditional thinking on this issue. More and more airlines are starting to complement their fleets with the Airbus A321, either in its ceo with Sharklets variant or the neo model, instead of the fuel inefficient Boeing 757, leaving Boeing to either find a suitable middle of the market alternative or see the aging Boeing 757 disappear in the passenger market.
Icelandair saw this and purchased the Boeing 737 MAX 8 to supplement its 757/767 fleet on short haul and low demand routes in both Europe and North America, taking advantage of the aircraft's reduced payload penalty, increased fuel efficiency and longer range.
WOW air, a newer airline, has used the more fuel-efficient Airbus family of single-aisle aircraft since its inception, giving it the advantage in the fleet department. However, it still has some holdovers from its early days in the form of non-Sharklet aircraft and different seating arrangements across the fleet, which should be changed to maintain consistency.
According to their website, WOW will grow its fleet this year from 18 to 24 aircraft consisting of mostly A321s and the Airbus A330-900neo. The fleet will still be 11 aircraft smaller than Icelandair, showing that while the two may be battling it out, WOW still has some growing to do.
Route Structure
While the route maps of WOW air and Icelandair are nearly identical, there are some key differences. It's been no secret that the two airlines have been locked in a gruesome competition to establish themselves as the Icelandic carrier, but lately, that war has intensified, causing both airlines to embark on an aggressive expansion campaign across both continents.
While Icelandair has been focusing mainly on the East Coast of the United States, with a secondary focus on the Pacific Northwest and a handful of Midwestern cities, WOW air has moved into those cities that have been neglected by not just Icelandair, but major airlines as a whole.
The airline first started with Boston and Baltimore, two cities with existing or former Icelandair service. Baltimore was dropped by Icelandair over 10 years ago, shifting, since then, to Washington Dulles International Airport in Virginia, and, yet, WOW decided to make the city one of its inaugural routes to the United States.
Since then, the airline has expanded to even more of the forgotten cities. Pittsburgh, Cincinnati Cleveland, St. Louis, all former airline hubs that have been severely downgraded in the last decade have become targets of low-cost airlines such as WOW, enabling the airline to have a stronghold in these cities, helping both the bottom line and the airline's popularity in these forgotten regions of America.
Now, Icelandair has been struggling to keep up. Formerly, the airline had a lock on all flights to and through Iceland. Most U.S. carriers didn't fly to Iceland, or only had one or two flights from the U.S., which is changing with United, Delta and American's foray into Iceland, so Icelandair had a virtual monopoly on the routes.
However, now that WOW air is challenging Icelandair's dominance in the market, Icelandair has been fighting to keep up. The Icelandic flag carrier has expanded to cities such as Kansas City, whose mayor said he thought they'd see WOW air start service before Icelandair, Cleveland, Dallas, and have even announced they'd be returning to Baltimore.
With the exception of Kansas City, every city that Icelandair is starting service to this year is being served by WOW air. WOW has even proven that flights from Iceland to California can be successful, as the airline operates an Airbus A330-300, the largest aircraft in its fleet, or sometimes an A321neo, to San Francisco and Los Angeles. Icelandair dropped San Francisco from its route network but is now returning in June.
The two are also fighting for positions in some major cities, as well. In the New York/New Jersey region, Icelandair has always flown to New York's JFK and Newark's Liberty Airport. WOW has, traditionally, flown to Newark, but has just added a daily flight to JFK and will add a second daily flight to Newark. Icelandair responded by putting its new Boeing 737 MAX 8 on the Newark route while maintaining a Boeing 767-300ER on the JFK route.
Additionally, WOW began service to Dallas-Fort Worth Airport in Texas. Well, Icelandair has decided it will too, starting service in May where it will be competing with WOW and American Airlines. The same goes for San Francisco, Baltimore, Cleveland, and Dublin. Cities that haven't seen or lost service to Iceland are now getting two Icelandic airlines.
WOW air has a slight continental advantage over Icelandair, as the low-cost airline serves the Middle Eastern city of Tel Aviv in the country of Israel, geographically located on the continent of Asia. Icelandair only serves North America and Europe. The 7 plus hour flight is not served by the A330, rather the A321 and is one of the longest scheduled flights for the aircraft.
The airline has also managed to fly to major airports across both continents, in contrary to some of its low-cost counterparts that serve secondary airports. As mentioned, the airline now operates to both of New York's major airports (Newark and JFK) and San Francisco instead of Oakland in North America but also serves major airports in Europe such as London-Gatwick and Paris-de Gaulle while maintaining low fares and passenger convenience.
Lastly, while WOW may maintain a large route network, it doesn't have the same frequencies as Icelandair, largely because of its limited fleet.
It's clear that WOW is having an impact on Icelandair, but the two are so different, it's hard to say which one's passengers will lean towards.
WOW air Premium
Most low-cost carriers, with the exception of Norwegian Air International, while appealing to a market with limited means or travel and looking to save money when flying, are always looking for ways to appeal to the ultimate traveler: the business traveler. Business travelers are the best type of travelers because to them, money is usually no object, to a degree.
For this reason, low-cost airlines have adopted ways to encourage business travelers to fly on them, while still appealing mainly to low-cost travelers. Norwegian Long Haul has a premium cabin on its Boeing 787 Dreamliner aircraft with some of the trappings of a full-service business class, LEVEL has a premium economy cabin on its Airbus A330 aircraft and Primera Air will feature a premium cabin on its Airbus A321s.
Additionally, there are those travelers that don't mind paying a little more on an already inexpensive ticket, compared to major carriers, for extra comfort. For them, it's like being in a first class without the expensive ticket. Typically, these are older adult travelers who don't mind the extra expense if it means enhanced treatment.
In its brief history, WOW has maintained a single cabin fleet, with the only differentiation between seats being a handful of extra legroom seats, called XXL and XL seats, in the front of the aircraft and in the exit rows. Most of the differentiation has been in its fare classes rather than its seats.
However, WOW has been experimenting with a premium product, called WOW air Premium, which is specifically targeted to business travelers. WOW's website specifically states, "This is a great option for smart travelers and businesses who like to give their staff a comfortable travel option while still keeping their cost down. Put yourself and your employees first with WOW premium."
The premium fare, also called WOW biz, is the most flexible ticket WOW sells and includes 2 checked bags, 1 carry-on bag, 1 personal item, a "bigseat" in the front of the cabin (comparable to an international premium economy seat), cancellation protection, fast track security at Keflavik Airport, priority boarding, an in-flight meal and waived changed fees. It doesn't include lounge access, priority security screening at non-Icelandic airports, in-flight entertainment or an exclusive cabin.
Additionally, the "bigseat" product is still being rolled out and is not on all aircraft. It is possible to purchase a WOW biz ticket and not have the bigseat product, which is the difference between sitting in a standard premium economy seat and the first or exit row of the plane. Also, since last minute aircraft swaps are common and complete fleet standardization has not been achieved yet, it's anybody's guess as to whether you'll get the bigseat if flying on an A321, as all of the A330s have the product.
it's entirely possible to snag one of these seats by complete chance. As WOW randomly assigns seats if you choose not to pay, you could find yourself in a big seat if you're lucky enough. There is no cabin differentiation between economy and the bigseats, different from most airlines that maintain two different cabins even if seats are randomly assigned such as Norwegian, so those seats are up for grabs during check-in.
However, just because you're sitting in a bigseat doesn't mean you get premium service. Since there is no differentiation between cabins, flight attendants have a list of people that bought WOW biz and will only give them the WOW biz service. Also, you also won't know until you're on the plane or ask a representative at the airport, as WOW limits access to seat maps after booking and even during check-in. If you manage to find your aircraft's tail number, you can find a specific seat map on WOW's website.
WOW Fares
Instead of the usual five fare classes, WOW only offers four fare classes, with varying amenities increasing from restrictive to flexible, as is common with all low-cost airlines. The fares that are offered include WOW basic, WOW plus, WOW comfy and WOW premium.
WOW basic
As the name suggests, WOW basic is the lowest and most restrictive fare class that WOW offers. All this fare offers is a ticket to ride and a personal item. While you have the option to add more such as seats, carry-ons and meals a-la-carte, you'll have to pay extra for them. Otherwise, seats are randomly assigned at check-in and everything else can be purchased at check-in.
These are the fares that you see on social media, billboards and other advertisements and can be as low as $69 on some routes. While some criticize low-cost carriers for advertising these fares with base amenities, the fact is that you can get from point a to point b with this ticket, which is all some people care about.
WOW plus
This fare class is meant for those who want some of the creature comforts of air travel but still don't want to pay too much. WOW plus includes everything that basic includes plus a carry-on bag, a checked bag and a seat assignment. As is with basic, you can purchase meals and other add-ons separately.
This fare is as close to a traditional ticket as you'll get for a low price. Usually, these tickets go for about $80-$100 more than the basic fare, but if you don't need a checked bag or don't care about a seat assignment, you don't need this ticket. You can always purchase a basic ticket and add on only what you need.
WOW comfy
The two next higher fares are the more flexible fares, meaning that they'll offer extra services that you might not need, but allow for ease of mind when planning a trip. With these fares, you're moving away from basic creature comforts in favor of flexibility.
WOW comfy offers everything that WOW plus offers, but also includes and XXL seat and cancellation protection. XXL seats are seats in the front of the plane, usually the first row, and exit rows throughout the plane. Since the A321s and A330s have more exit rows than the A320, which only has 2 exit rows, you should buy this product if you'll flying on one of those aircraft for more selection.
If you're flying on a plane that has the bigseat product, however, you'll be relegated to either an exit row XXL seat or an XL seat, which are usually located just behind the bigseat. Additionally, there's a chance you'll be randomly assigned an XXL or XL seat when checking in for your flight, but the odds of that aren't in your favor.
Additionally, cancellation protection is included in case anything happens before the trip and leaves you unable to take your flight. The conditions of cancellation protection are very restrictive, however. According to WOW, the only two conditions that would warrant a refund should cancellation protection be purchased are illness of either yourself or an immediate family member or destruction to home or business, which requires your presence.
This is similar to buying travel insurance where not every incident is covered, but the conditions here are very restrictive and narrow. Also, if you do have to cancel because of illness or death, a copy of a medical certificate or death certificate is required, and if you cancel because of damage to home or business, a copy of a police report is required.
WOW premium
WOW premium, also called WOW biz, is the most flexible ticket you can purchase on WOW air. In addition to everything that comes with WOW comfy, you get an additional checked bag, a bigseat with more legroom and extra width, an in-flight meal, fast track security at Keflavik Airport, priority boarding and waived changed fees.
This is the fare aimed at business travelers and those looking for an extra level of comfort for a still low-fare. This ticket is usually $270-$300 more than the base fare. While this ticket seemingly includes a lot, keep in mind that getting a bigseat is dependent on the aircraft you're flying on, which is subject to change, fast-track security only exists at Keflavik Airport, and the rest are only useful if something goes wrong.
MyWOW 
Additionally, members of WOW air's "loyalty" program, myWOW, are also eligible for discounts on certain fares. The program is similar to Frontier Airlines' Discount Den program or Spirit Airlines' $9 Fare Club, except myWOW is free of charge and just requires a sign up on the website.
My Experience on WOW air
WOW air Flight 110 to Reykjavik/Keflavik
As I mentioned above, in its fight against Icelandair, WOW has been expanding to many new airports across North America and Europe. My hometown airport, New York's JFK was one of the lucky airports to be caught up in the wave of WOW's North American expansion, directly competing with Icelandair's daily flight to New York's biggest airport, and WOW air had invited AirlineGeeks to be on the first flight.
The flights, WW109 and WW110, began on April 26 and April 27, respectively, as the return flight to Keflavik departed 40 minutes past midnight. However, in contrast to the traditional model of the Icelandic connection strategy, this flight did not allow for connections onward to Europe and Asia. If you were looking to continue onward, the only options were Amsterdam, Paris, London and Barcelona, which departed after 12 noon.
Clearly, this flight mostly caters to those either solely traveling to Iceland or stopping over in Iceland as part of WOW's free stopover program. Nonetheless, I flew on the first WOW flight from New York to Iceland in the early morning hours of Friday, April 27. It was my first time on WOW and even though I've covered many other low-cost airlines, I was eager to see what WOW had in store as one of the newest airlines in the low-cost market.
WOW uses Terminal 1 at JFK. I've only used the terminal a handful of times, but it was not one of my favorites. For a terminal that caters mainly to international carriers operating widebody aircraft such as the Airbus A380 and Boeing 747-8, it's very small and tricky for planes to get in and out of, even a WOW air A321. Arriving via Air Train at the terminal, I was able to easily spot WOW's check-in due to its colorful signage.
An interesting feature of WOW is that they have online check-in that issues a mobile boarding pass on flights departing the U.S. This is unique for a low-cost carrier because even major airlines don't issue mobile boarding passes without a passport verification at the airport. Despite this, I still went up to the counter to receive a boarding pass.
The airline has a very streamlined check-in and bag drop process. If you've checked in online, you can go straight to the bag drop counter and check your bag. If you need a boarding pass, you'll have to go through the regular check-in process. However, there is only one flight on a plane that holds roughly 200 people, depending on the aircraft, so the check-in line wasn't long and moved quickly.
The gate we would be using tonight was gate 1, which is the smallest gate in the terminal and is used by Norwegian's Boeing 737-800 service to the French Caribbean. We shared the gate area with a Turkish Airlines flight, which was scheduled to depart 5 minutes before us. However, since we were delayed by 20 minutes due to a late inbound aircraft, this was of no consequence.
As it was the first flight, WOW air flight attendants and crew were posing for photographs and were given gift bags by the JFK-sourced ground crew. Their bright purple uniforms stood out in an otherwise colorless section of the terminal. Since the occupants of Terminal 1 share gates, there was no unique identifier of WOW air, not even boarding signage, which lead to confusion.
Additionally, because the airline issues mobile boarding passes without verification, the gate staff make an announcement every 5 or so minutes asking guests who have not seen an airport employee to come to the desk to have their passport verified. With people standing around the gate waiting for a boarding announcement, this does get a little tiresome and annoying.
45 minutes before our scheduled departure, flight 109, the inaugural from Keflavik, came into view on taxiway alpha adjacent to the terminal. I knew that it wouldn't be enough time for us to have an on-time departure, so I walked around the terminal. Boarding began at 12:20 a.m., 20 minutes before our scheduled departure.
There was no designated boarding process told to us ahead of time, in contrast to the other airlines that occupy the terminal whose boarding signage and placards adorn the passageways of the L-shaped terminal building. Angry passengers who thought they were at the front of the line begrudgingly walked to the back of the line for their designated group.
The is similar to Keflavik Airport, where anybody who has visited the airport knows that lines form out of nowhere with little information as to boarding process or order. Unfortunately, it seemed that WOW brought this problem with the boarding process with them from Keflavik. While boarding went seemingly smooth, with the airline boarding back to front, there was a large backlog in the jetway itself.
The flight was clearly crowded, and boarding took longer than usual. However, once we got to the bottom of the jetway, we were greeted by WOW's signature purple aircraft, this one with the registration TF-GMA, and a smiling flight attendant.
One of the ways that low-cost carriers make up for the lack of amenities is by having a friendly cabin crew and maintaining a friendly atmosphere. The bright purple planes, flight attendant uniforms and seats, as well as the playful messages and sayings that are found throughout the plane and on WOW-branded equipment and other items. Additionally, the floor of the galley was also a laminate wood, which was the first time I've seen an airline make an effort on the floors of a galley.
Before pushing back, the captain came out to tell us about the flight, since it was the inaugural. Everybody clapped when he said it was the very first flight from JFK for WOW air, and they clapped even more so when he told us that we were going to have cake to celebrate. Again, a very playful airline.
Sitting in the seat, it was no different from airlines such as Norwegian Air International and Frontier Airlines. Seat Guru had said that seat pitch ranged from 30-31 inches but it was more like 29 inches. When I stretched out, my knees were up against the person in the seat in front of me and I couldn't spread my legs across the seat next to me due to the presence of some sort of power box.
Advertisements for various Icelandic tour companies were featured on the paper headrest covers that line the cabin, as well as in the magazines that WOW provided. Icelandair does this as well, giving passengers the opportunity to purchase their tours on board.
Additionally, getting a look at the passengers coming on the plane and in the gate area, I could tell WOW was reaching its target. Most were younger millennials, very few were adults above 30 and there were no business travelers, it seemed.
After a quick push back and start-up, it was a quick taxi to runway 4L. We followed about 4 other aircraft, mostly heavies that departed from the same terminal as us. We were the small A321 at the end of a line consisting of an Airbus A380, Airbus A330-200, Boeing 787 Dreamliner, among others. After a brief wait, we were in the air heading for Iceland.
Service started promptly when in the air. First, the flight attendants started by promoting the in-flight entertainment. WOW's A321s don't have traditional IFE, so the airline makes up for it by offering rental iPads with downloaded movies on them. The iPads costs around $25, depending on the flight, and have some new movies on them. However, I saw only a few takers.
What did surprise me, though, was the power outlets at every seat. Usually, low-cost airlines have barebones aircraft, as we saw with the in-flight entertainment. However, WOW's aircraft have power outlets accepting both USB and standard plugs. What bothered me though was that the armrests in between the seats had to be lifted by lifting a switch under the armest and once up, it didn't want to stay up.
As the service continued, the flight attendants first got the meal orders of those who had ordered WOW biz or a meal in advance. The options for the flight were Ham and Cheese Baguette, Chicken Club with Bacon or a Margherita Pizza (which the airline describes as "pretty decent for airplane food"). I chose the Ham and Cheese, which I was surprised was heated and served hot.  Additionally, you get a water bottle and a free drink.
After that, the drink service began. In my section, at least, there were very few takers since you had to pay for the drinks. Since it was nearing 2:30 a.m., I decided to go to sleep. Remarkably, I was able to sleep for 2 hours and woke up over Greenland. Since the days are longer in the upper latitudes, sunrise came earlier. The captain pointed out Greenland on both sides of the plane and within an hour we would be landing.
Flight attendants came around to distribute the cake to celebrate the inaugural flight and then came to collect the trash before landing. Just over 5 hours after leaving New York, we were flying over Iceland.
Once we landed at Keflavik, it seemed we were the only ones there. Having experienced the morning rush at Keflavik, it was strange to see the airport so empty. As I mentioned before, there were only a handful of WOW flights leaving after we landed, so most of the people on my flight were staying in Iceland.
WOW air Flight 109 to New York
After an eventful weekend in Iceland, it was time to return home. By the time I took the flight, WOW had only flown to and from JFK twice. The flight was an evening flight, scheduled to depart at 9:10 p.m. and arrive just before midnight at 11:25 p.m. Arriving at Keflavik Airport at 7:45 p.m., it seemed like a ghost town.
Check-in lines were non-existent, most of the other airlines that serve the airport had closed for the day and the only other flight besides us that was leaving at that time was the WOW air flight to Chicago. Once I got my ticket, I proceeded through security where it was only myself and another person. The duty-free was open but it was empty and most of the restaurants were closed, so plan ahead if you get hungry before the flight.
However, I did manage to see a Primera Air Boeing 737-800 sitting at the gate, an Austrian-registered EasyJet A319 depart and countless other Icelandair Boeing 757-200s and a few 767-300ERs. Last time I was at Keflavik, it was impossible to move with the endless lines of people. Now, the airport was deserted.
Clearing customs was no issue, as I was the only one there and no questions were asked. Our gate was D16 so I proceeded there after my airport wandering. Boarding had started 50 minutes in advance, although it didn't matter in the end. Boarding occurred again by row, but not even midway through the first group did they welcome all customers to board.
The boarding line moved incredibly slowly as gate agents checked passports, then scanned tickets and asked a few security questions. This was compounded in yet another crowded jetway. I was surprised to see that even though we boarded early, the last person stepped on the plane 10 minutes prior to departure. Luckily, we had a glass jetway so we could see outside while we waited.
When I got on the plane, I was surprised to see that this was one of the few planes with the bigseats in the first two rows of the plane. Luckily, I was in seat 1F, which I had almost changed because I didn't want to be in the first row with immovable armrests.
Besides my row mates across the aisle, it seemed as though I was the only person with an advance seat assignment because almost everybody that had their seats randomly assigned asked the flight attendant if they were in the right seat. They were the lucky few that played the seat lottery and won the jackpot. Although, as I mentioned, just because they were in the bigseat didn't mean they got the bigseat perks.
Even though we had boarded early, we didn't push back for another 10 minutes after scheduled departure due to an undisclosed issue. I gleaned the information from overhearing the flight attendants, but no announcement was made. Also, WOW pilots tend to taxi more conservatively, in contrast to the other pilots I've seen taxiing fast to make up for lost time. We also had the runway with the longest taxi time.
Departing Keflavik at sunset, however, the view was immaculate. Iceland truly is a beautiful county and one of the best ways to see it is from the air, no matter how short the ascent may be. The seatbelt sign turned off at 10,000 feet and the flight attendants sprang into action.
Similar to the flight up to Iceland, flight attendants started the service by promoting the iPads with downloaded movies. One of the people near me asked if there was any in-flight entertainment or wifi and when asked how the iPads worked without wifi, didn't understand how movies were able to be played without wifi.
Then, the FAs started getting meal orders from those that purchased the option ahead of time. This time, I went for the Chicken Club with Bacon and a sparkling water. Contrary to the Ham and Cheese Baguette, I expected this to be heated, but it was cold, which was fine. While it wasn't a heavily loaded sandwich, it was very fresh and tasty, consisting of chicken, bacon, lettuce, tomato, avocado and mango sauce.
However, once the main meal was served, that was it for the rest of the flight. While Norwegian does an entire service in their premium cabin, with WOW, you just get the one meal and that's it. No snack and no dessert, unless you're on an inaugural. Although, you may get an additional snack on the longer flights. The seats also don't have any footrest, but the recline is very generous and conducive to sleep.
We had the sun with us for a good 3 hours on the flight, almost a continual sunset. Walking throughout the cabin, the flight was almost completely booked. The cabin was illuminated with purple and orange mood lights. I slept for about 2 and a half hours and woke us as we started the descent into New York.
After landing in New York, we made the trek to Terminal 1. Of course, our tiny gate 1 was a tow-in gate, so we spent an additional 5 or so minutes being tugged into the gate. After that, it was only a short walk to customs and we were back in the United States.
Final Thoughts on WOW air
As with most low-cost airlines, WOW is opening up Europe to more people than ever. With its hub in Iceland, the airline is able to reach more cities on both continents, enabling people from California to Massachusetts to fly to Iceland, mainland Europe and beyond. When fares are on sale, it's possible to go from North America to Iceland for $200 roundtrip, without having to go to a secondary airport as Norwegian Air International offers.
In terms of the service, the flight attendants and crew were incredibly friendly to passengers, making the flying experience more enjoyable all around. While the seats were tight, it didn't prevent me from enjoying the flight at all. Additionally, I applaud WOW's addition of the power outlet, an amenity that most people require regardless of the airline they're flying on, as WOW doesn't provide its own in-flight entertainment.
However, the airline is not without its problems. As I mentioned before, the airline seems to have an on-time departure problem, as both of my flights were delayed for minor reasons and the slow boarding process is a huge hindrance to an on-time departure. WOW needs to do more work in speeding along the process so that people can get on the plane and the plane can leave on-time. The waits were by far some of the longest I've spent waiting to board a plane.
Having experienced the premium product, I find it incredibly lacking. Once the meal service was over, I found myself asking, "Ok, what's next," only to be left to my own devices for the rest of the flight. While the bigseat is a good attempt at a premium economy, there needs to be more of a service than that. Additionally, while the food served was very tasty, it was more of a snack.
I think the airline should follow Norwegian's lead and serve a proper warm meal instead of sandwiches and a small pizza. A meal helps the flight go faster, as the time spent eating and the time spent sleeping following the meal makes the flight go by quicker.
The bottom line, as with most low-cost carriers, WOW is a great airline from getting from point A to point B. What you lack in amenities, you make up for in low fares, great service and a friendly atmosphere in the air and on the ground. However, you should know what to expect and, as with any new airline, you should do research and know what you're getting into.
While it's too early to tell as to whether WOW will be successful, the load factors I observed on both flights were impressive. In addition, the airline has evoked a fierce battle with Icelandair that has seen both airlines expand rapidly across the United States to smaller cities devoid of international service for some time now and contributed to the overall reduction of fares for transatlantic travel, which is quite an accomplishment.
As to whether or not they'll unseat Icelandair as Iceland's top carrier, that is yet to be seen.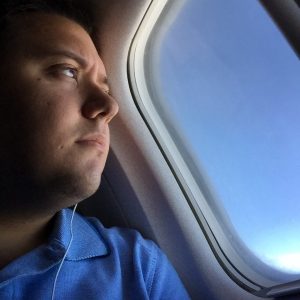 Tom has been flying for as long as he can remember. His first flight memory was on a Song Airlines 757 flying from LaGuardia to Orlando. Back then, he was afraid to fly because he thought you needed to jump off the plane in order to get off. Some years later, Tom is now a seasoned traveler, often flying to places just for the fun of it. Most of the time, he'll never leave the airport on his trips. If he's not at home or at work as a Line Service Technician at Long Island MacArthur Airport, he's off flying somewhere, but only for the day.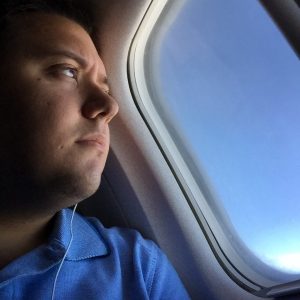 Latest posts by Thomas Pallini (see all)