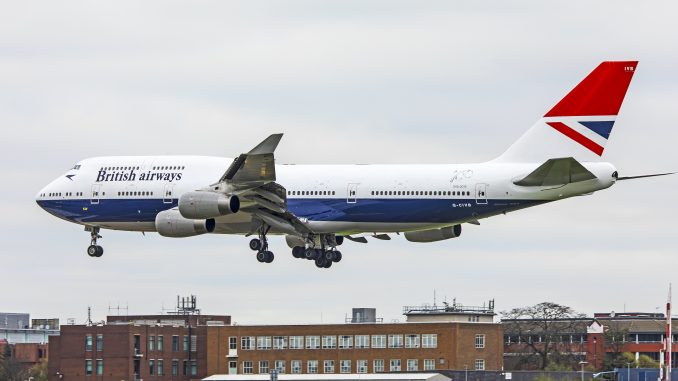 British Airways unveiled the fourth and final retro livery as a Boeing 747-400 painted in 'Negus' colors touched down at London's Heathrow Airport on Thursday morning, continuing the airline's 100-year centenary celebrations.
The livery appeared in 1974 and was the first to bring back the name "British airways," which first appeared up until 1939 when the original British Airways livery merged with Imperial Airways to form BOAC.
The Negus scheme was brought about after BOAC and BEA merged together to become the British Airways passengers are familiar with today. It was designed by the Negus & Negus Agency, a husband and wife business ran by Dick and Pam Negus.
Alex Cruz, the Chairman and CEO of the airline said in a press release, "It's particularly significant for us because it's the first design worn by the British Airways that we all know today, with the distinctive lower case 'a' and the Union Flag on the tailfin."
As part of British Airways' centenary celebration, the airline unveiled a series of four heritage liveries. The first retro livery arrived in February with a British Overseas Airways Corporation (BOAC) scheme painted on  747. The second to arrive was an Airbus A319 sporting the British European Airways (BEA) livery.
Then at the beginning of the March, the airline repainted another 747 in the Landor scheme. Cruz said: "Reintroducing four heritage designs into our fleet has been an incredibly nostalgic time for us and customers, we're impressed at how popular they've been."
In its centenary year, the airline will invest $8.4 billion over five years, including new aircraft, new catering, new lounges, onboard WiFi and new routes. Earlier this week British Airways unveiled a new Club Suite, which will first appear on the Airbus A350-1000s slated to be delivered in July.
Photo Gallery
All photos by AirlineGeeks photographer William Derrickson
AirlineGeeks.com began in February, 2013 as a one-man (er… teenager, rather) show. Since then, we've grown to have 20 active team members, and yes, we're still growing. Some of us are looking to work in the aviation industry as professionals when we grow older. Some of us are still trying to decide what we want to do. That's okay though, because we're all here for the same reason: we love the airlines. We're the youngest team of airline industry journalists out there.
Latest posts by AirlineGeeks.com Staff (see all)