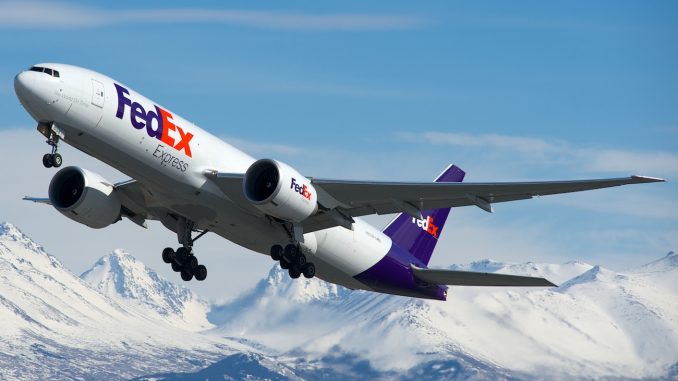 Since the creation of the first airport in 1909 by Wilbur Wright, cities and states have come together to create one of the most expansive airport systems in the world. Over the next few months, our writers have taken an in-depth look at each state to see what airports it has to offer, what its history entails, and what changes we can expect in the future that will continue to shape the airline industry.
Alaska is the 49th State added to the United States, and was admitted to the Union on January 3, 1959. Popular for its unique landscape and wildlife, Alaska has hundreds of airports scattered across the state. However, this State Series will highlight the airports in Alaska that have a significant interest in the aviation industry.
MAJOR AIRPORTS
Ted Stevens Anchorage International Airport – Anchorage, Alaska (ANC)
Ted Stevens Anchorage International Airport is Alaska's biggest airport. Featuring three asphalt runways, the airport transports over 2 million tonnes of cargo per year as well as carries an average of 4.5 million passengers per year. The airport was built in 1951 and was originally served by Alaska Airlines, Northwest Orient, Pacific Northern Airlines and Reeve Aleutian Airways using aircraft such as the Douglas DC-3 as well as Boeing B737's. Canadian Pacific Air Lines also used the airport as a refueling stop on services to the far east. European presence in Alaska began in 1957 when Scandinavian Airlines launched transpolar flights to Tokyo via Anchorage, as well as Japan Airlines serving Seattle with an additional stop in Anchorage. After that, carriers such as Air France, British Airways, KLM, Lufthansa and Sabena all used the airport as a refueling base for flights to Japan. Such flights like these ended in the early 1990s following the end of the Cold War. From 1955 until 2011, the southernmost runway (7R/25L) was connected to the Kulis Air National Guard Base, which was land leased by the airport.
Anchorage's domestic portfolio consists of Alaska Airlines, American Airlines, Delta, Grant Aviation, JetBlue, PenAir, Ravn Alaska, Sun Country & United Airlines on destinations to mainland America like Chicago, Seattle, Dallas, and Los Angeles, as well as flights in Alaska such as Adak, Barrow, Bethel, Juneau, and Ketchikan. On the international perspective, Anchorage sees carriers such as Air Canada, Condor, Icelandair and Yakutia Airlines on flights to Vancouver, Frankfurt, Reykjavik and Petropavlovsk-Kamchatsky, all on a seasonal basis. Although there is a significant commercial presence at Anchorage, cargo operations are what the airport is most popular for. Anchorage hosts international carriers such as AirBridgeCargo, Air China Cargo, Asiana Cargo, Cargolux, Cathay Pacific Cargo, and much more. Such carriers offer services to destinations such as Abu Dhabi, Hong Kong, Seoul, Toronto, Shanghai-Pudong, Xiamen, Singapore and many more destinations.
Fairbanks International Airport – Fairbanks, Alaska (FAI)
Fairbanks is the smallest city in the United States with non-stop service to Europe. The airport features two asphalt runways, followed by one Gravel/Ski-Strip runway and one Water/Winter Ski Strip. Before the current Fairbanks Airport opened in 1951, Pan American World Airways were operating services out of the old version of Fairbanks since 1932. The carrier provided services to Juneau, Seattle, Ketchikan, Whitehorse etc. The new Fairbanks opened the same year as Ted Stevens Anchorage did in 1951. Alaska Airlines used Fairbanks as their first hub out of Alaska until they moved to Anchorage in 1967. Pan American World Airways made a comeback to Fairbanks in September 1969 when they used the airport as a stopover for transpacific services from New York and Seattle to Tokyo, Japan.
The airport averages around 100,000 aircraft operations per year, and in 2012 had a staggering 541 aircraft based locally. Fairbanks' commercial portfolio is more domestic, rather than international. The only international carrier to operate out of Fairbanks is Condor with service to Frankfurt, which is also on a seasonal basis like at Anchorage. On a mainland-domestic basis, 40-Mile Air, Air North, Everts Air, Ravn Alaska, Warbelow's Air Ventures and the Wright Air Service provide services to around 10 destinations within Alaska alone. On the mainland-America services, carriers such as Delta Airlines and United Airlines operate services to Seattle, Minneapolis & Chicago. Cargo services see carriers such as Antonov Airlines, Atlas Air, Empire Airlines and Ravn Alaska operate routes to Seoul, Los Angeles and Anchorage respectively.
Juneau International Airport – Juneau, Alaska (JNU)
Juneau International is a public use airport and seaplane base. The airport has one asphalt runway and one water runway, averaging around 90,000 aircraft operations per year. During the Second World War, Juneau was used by the US Army Air Forces as a vital transport link between the Aleutians and airfields within the continental areas of the United States. Commercial history dates back to 1947 when Pan Am was operating daily Douglas DC-4 services to Seattle via Annette Island Airport. They also had services to Whitehorse, Canada. Over the years, due to the success on that route, Pan Am was using equipment as large as the Douglas DC-6B.
Out of the 230+ plus aircraft per day that operated out of Juneau, 73% of traffic is labeled as Air Taxi, with only 17% being General Aviation. Alaskan Commercial carriers such as Air Excursions, Alaska Airlines, Alaska Seaplane Service, Ward Air and Wings of Alaska operated to destinations such as Gustavus, Haines, Hoonah, Kake, Skagway, Cordova, Petersburg, Sitka, Wrangell, Yakutat, Chatham, Funter Bay & Excursion Inlet. Delta Airlines also operated seasonal flights to Seattle/Tacoma International as well. On a cargo basis, Alaska Air Cargo, Alaska Central Express and Empire Airlines operated cargo services to Anchorage, Seattle and Ketchikan respectively.
OTHER AIRPORTS
Bethel Airport – Bethel, Alaska (BET)
Bethel Airport is a public use airport owned by the State of Alaska's Department of Transportation. The airport has three asphalt runways and averages around 120,000 aircraft operations per year. The airport's history began in 1941 and was activated in 1942 as Bethel Air Base. The Air Transport Command used the airport as an auxiliary airfield for aircraft being flown to Siberia. The airport was then transferred to the 11th Air Force, then onto the Alaskan Air Command. From 1945, it became the joint-use airport that Bethel Airport is today.
The airport does have a commercial presence but has no aircraft that fly directly to the mainland of the United States. Alaska Airlines operate services to Anchorage, while smaller carriers such as Grant Aviation, Ravn Alaska and Yute Air operate services to many destinations around Alaska such as Atmautluak, Chefornak, Chevak, Kipnuk, Konigiganak etc. On a cargo perspective, Alaska Central Express, Everts Air Cargo, Lynden Air Cargo and Northern Air Cargo all compete on cargo services to Anchorage.
Ketchikan International Airport – Ketchikan, Alaska (KTN)
Featuring one asphalt runway and only five aircraft based at the airport, Ketchikan International Airport is a small airport located in the south of Alaska. Commercial history at KTN began in the old version of the airport with Pan American World Airways operating Douglas DC-4 services to Annette Island in the 1940s, following the upgrade of Douglas DC-6 and Boeing 377 Stratocruiser Aircraft as demand increased at the airport. Pacific Northern Airlines also operated services in the 1950s using Lockheed Constellation aircraft to Annette Island. By the 1960's, Pan Am was flying Boeing B707 aircraft out of Ketchikan. The current Ketchikan Airport was opened in 1973, with Alaska Airlines inaugurating the first commercial service from the newly-built airport with service to Seattle.
Only four carriers operate out of Ketchikan. Alaska Airlines operate services to Anchorage, Juneau, Petersburg, Seattle/Tacoma, Sitka, Wrangell, while Delta operate seasonal flights to Seattle, Island Air Express on routes to Klawock and Promech Air on flights to Craig, Hollis, Metlakatla and Thorne Bay respectively. Alaska Central Express & Ameriflight dominate the airport on cargo flights to Anchorage, Juneau, Petersburg, Wrangell, Seattle's Boeing Field and Vancouver.
Overall, Alaska's aviation history is a gem of significance and interest. The state has a very short but successful history in the international aviation industry as the refueling hub of the far-east routes to Japan and other areas of Asia. More importantly, air service performs the duty in Alaska of providing necessary goods to a population scattered across the state. The state has also adapted very quickly to the growth in the aviation sector over the past 60 years and will continue to grow over the next several decades.
James is a passionate AvGeek who has been actively spotting for years. James has been an Aviation Enthusiast for 7 years and has a fond likening to Concorde! James hopes to grow in the aviation industry with journalism being his primary focus.
Latest posts by James Field (see all)