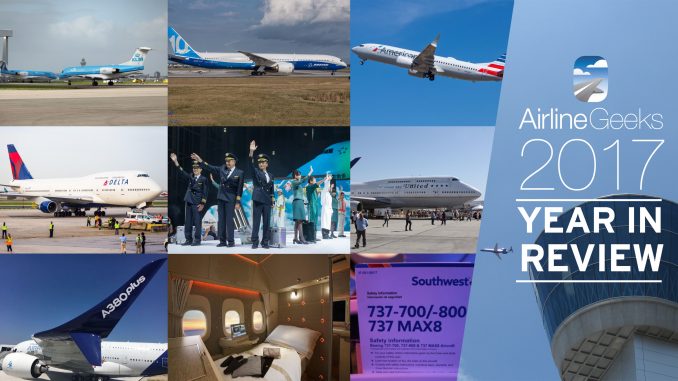 AirlineGeeks has experienced rapid growth over the past few years and this past year was no different. 2017 was another fantastic year of growth for us. Along with the website, the world of aviation saw many firsts, but sadly also a few lasts, including final flights and the shutdown of airlines.
This post aims to encapsulate some of the most significant airline related events in 2017. Click on the headers to visit the full story.
In January, Iran Air took delivery of its first new aircraft in over 24 years. The Airbus A321 was the first of 100 Airbus aircraft the carrier has ordered. The airline also took delivery of two A330s this year and multiple ATR aircraft.
In early February, Air Canada debuted a new livery along with a brand redesign. The new livery was unveiled simultaneously at three of the airline's hubs in Canada and received mixed reviews.
Aircraft manufacturing giant Boeing rolled out its first Boeing 787-10, the largest variant of the Boeing 787 Dreamliner family. The roll-out occurred at the company's manufacturing plant in Charleston, South Carolina and was attended by President Trump. The aircraft later performed its first flight in March.
April marked the first delivery of the Airbus A321neo, the largest of the new, reinvented line of narrow-body Airbus aircraft. The aircraft was delivered to Virgin America in mid-April with the first flight taking place in late May between San Francisco International Airport and Ronald Reagan Washington National Airport.
Commercial Aircraft Corporation of China took a major step in the development of its second aircraft after it completed its initial test flight at the start of May. The aircraft is expected to complete testing and be delivered to its first customer in 2020.
Malindo Air of Malaysia took delivery of the first Boeing 737 MAX aircraft in May. Although the airline was not set to be the original launch customer, they were given the honor after Southwest Airlines had their initial deliveries pushed back.
Russia's attempt to compete with Boeing and Airbus took a step forward with the completion of the first flight of its MC-21-300 aircraft. While it did not receive the fanfare of many of the other first flights this year, it was a very important step for Russian aviation.
China Airlines was part of a major milestone for Airbus as they took delivery of the 100th Airbus A350, Airbus' newest widebody aircraft. Although 100 does not seem like that big of a number, it is significant for an aircraft that began deliveries in 2015.
One of the largest carriers in the United Kingdom suddenly shut down overnight as it entered administration. Following its closure, one of the largest airline rescue missions was commenced to help retrieve passengers stranded by the shutdown.
Delta took delivery of their first A350-900XWB in early August becoming the first airline in North America to operate the latest generation aircraft. The airline currently has six A350 aircraft serving routes previously flown by the 747-400.
For the second year running, AirlineGeeks.com partnered with American Airlines to give over 150 AvGeeks a behind-the-scenes look at the airline's hubs and facilities in the U.S. and Europe.
Southwest quietly took delivery of its first Boeing 737 MAX 8 aircraft in August before placing it into revenue service on Oct. 1, 2017. The first flights for the new aircraft were going to be a 'Texas Triangle' connecting Dallas Love Field, Houston, and San Antonio, however, a maintenance issue scrubbed the final legs.
After 38 years of service, Air Berlin completed its final flight. Unlike other airlines that "died" this year, this shutdown was expected and the airline ended up going out with a rather controversial bang.
KLM operated its last Fokker 70 flight in late November from London to Amsterdam. The flight was met with plenty of fanfare and emotion as staff and enthusiasts paid their final respects.
United said goodbye to the Boeing 747 after 40 years of service for the airline. The final type for the airline operated its farewell flight from San Francisco to Honolulu, a homage to the airline's first revenue flight for the aircraft back in the 1970s.
After over 35 years of inter-Hawaii operation, Island Air unexpectedly shut down and filed for bankruptcy protection. All passengers that had bookings were left somewhat stranded as the airline offered no real fix for customers who were left without flights.
Following Air Berlin's shutdown, Lufthansa showed interest in saving the Austrian airline. However, a late decision from the German-giants to pull their bid following an announcement from the European Commision spelled the end for NiKi and the airline entered administration.
Delta became the second U.S. airline to say goodbye to the "Queen of the Skies." The airline toured the aircraft around hubs along with a stop at Boeing's home in Everett, Wash.
AirlineGeeks Staff Year in Review
On top of these important events in aviation, some of the staff at AirlineGeeks.com shared their aviation highlights from the past year. This what they had to say:
"I was humbled by the Delta and United 747 retirements in 2017. Quite honestly, I've overlooked that aircraft for some time, but watching airlines and aviation enthusiasts come together to pay homage to these fleet types was inspiring. It really brought the U.S. airline industry together to honor such an iconic aircraft that has stood the test of time in airline fleets around the world. Personally, I loved how United placed the 'Friend Ship' decal on two of its 747s for the farewell tour. That airplane is the epitome of friendship, connecting different cultures, nations, and dialects. It opened up new doors and changed the way that we all live together as a society. Maybe we can all take a page out of the Friend Ship's book." Ryan Ewing, Founder & President 
"This year I was given the gift of my first ever camera, a Canon DSLR, the perfect accessory for plane spotting. I am still new to the hobby, but have already had the chance to do some minor plane spotting in Dallas–Fort Worth and Cleveland. More importantly, I have met some great individuals that love aviation photography and have been very helpful in exploring my new passion." Joe Pesek, Editor-in-Chief
"This year, my biggest highlight was getting to tour the behind-the-scenes operations of Athens International Airport. Getting to see how Greece's busiest airport handles exceptionally large amounts of aircraft movements during the summer season highlighted the importance of the airport and how it is becoming a state-of-the-art facility." Mateen Kontoravdis, Copy Editor
"I was privileged enough to join AirlineGeeks.com in August as an editor and writer. I'm honored to be working with an amazing group of knowledgeable people and having an outlet to share my insights about the aviation industry. I was also lucky enough to fly to Toronto on behalf of AirlineGeeks to interview an airline executive and helped document United's 747 farewell, one of my proudest articles." Tom Pallini, Copy Editor
"This year I joined AirlineGeeks as a Social Media Editor. Highlights during my time at AG involved having many opportunities to attend events across the airline industry such as the NY Jets livery unveiling at JetBlue, 737 MAX / Maintenance Tour in Tulsa, OK at American Airlines (I never thought I would've visited Oklahoma in a million years, but this year I did so twice!), and American's Snowball Express flight to DFW. " Justin Sinanan, Social Media Representative
"This year I had the opportunity to help document AA's (American Airlines) Snowball Express flights…this is a great opportunity and a chance to gain a new perspective." Parker Davis, Senior Writer
"My main aviation-related event is actually joining AirlineGeeks! It's been really inspiring and interesting speaking to so many people from around the world about planes and the general going-ons in the aviation world." Andy Nelson, Writer
"I had my first solo flight. When I finally took to the skies on my own I felt an amazing feeling of freedom and confidence." Craig Fischer, Photographer
"This year I had the opportunity to start pursuing my dreams of becoming an air traffic controller. I started and completed my first semester at Embry-Riddle Aeronautical University in Daytona Beach, Florida." Jace Moseley, Writer
"This year I was proud that my aviation experience and skills were recognized by IATA and I have been contracted to deliver courses to the next generation of aviation professionals. Also that I have joined a team of passionate 'AvGeeks' to promote the industry through AirlineGeeks." John Flett, Writer
"2017 is the year I'll always link to aviation. I finally paid attention to my long-delayed dream of being a part of the aviation journalism community. I started my blog, grew a reputation, and got invited to flights and events. On top of that, [I] started writing for AirlineGeeks." Pablo Diaz, Writer
"This last half year I earned my CPL(A) IR ME, went to TLS (Toulouse-Blagnac) for the A330neo first flight, started my first job as a pilot and started my type rating on the Dash 8 Q400." Fabian Behr, Photographer
"This year's best aviation moment for me had to be touring the American HQ on AAviationDay, where I literally watched the social media team reply to my Twitter DMs." Greg Linton, Photographer
"I joined American Airlines as a Senior Tower Planner at JFK." Shaquille Khan, Photographer
Of course, we may have missed a few events, but they will be remembered by many. Thank you all for your support over the past year and we hope you have a fantastic 2018.
Jace has been working at AirlineGeeks for nearly three years. Born in Seattle, Boeing and aviation quickly took over his life and he never stopped looking up. Jace enjoys plane spotting and taking trips just so he can fly. He is currently studying at Embry-Riddle Aeronautical University while earning his Bachelors of Science in Air Traffic Management.
Latest posts by Jace Moseley (see all)