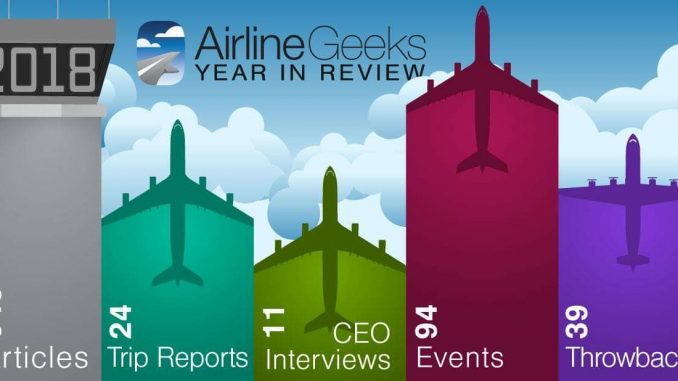 Aviation continues to keep people and economies connected as more people fly each year. As the 125th anniversary of the Wright Brothers' first flight's was celebrated on Dec. 17, aviation enthusiasts and professionals had an opportunity to reflect on the progress the industry has made since the introduction of flight in 1903.
Around the world, 2018 proved to be another very important year of accomplishments for the entire industry. From first flights and last flights to airline consolidation and tragic incidents and everything in between, 2018 was filled with highs and lows that will be remembered as the industry flies full speed into 2019.
This article chronologically highlights important moments in aviation that were covered by AirlineGeeks.com this year.
Emirates officially signed a Memorandum of Understanding (MOU) for 20 firm orders and 16 options for the Airbus A380 aircraft, helping the aircraft manufacturer seal the deal to keep the A380 in production for "at least for another ten years." The $13 billion deal will help the airline replace older aircraft and add newer A380 to its fleet through 2030.
Boeing announced on Jan. 22, 2018, that its 787-10 Dreamliner received an amended type certificate (ATC) from the U.S. Federal Aviation Administration (FAA), clearing the airplane for commercial service. The awarding of the ATC capped a successful test program that began in March 2017 and involved three flight-test airplanes that accumulated about 900 test hours. Following this certification, the aircraft manufacturer delivered the first 787-10 in March.
AirlineGeeks will be onboard the inaugural flight of the aircraft on Jan. 7, 2019, less than a year after receiving the certification.
The U.S. International Trade Commission voted unanimously in favor of Canadian builder Bombardier, stating that the 108-seat CS100 does not represent a threat to the sales of Boeing's 737-700. The dispute started in April 2017, when Boeing filed a complaint with the US Commerce Department claiming that its 737-700 version of the 737 family was unable to compete in a fair game after Bombardier offered "absurdly low prices" to Delta, who signed an order of 75 CS100 plus 50 options.
With the ruling in favor of Delta and Bombardier, the airline became the North America launch customer of the aircraft in September.
AirlineGeeks will be onboard the first two flight of Delta's Airbus A220s on Jan. 31, 2019 on flights from New York's LaGuardia Airport to Boston Logan International Airport and Dallas-Fort Worth International Airport.
An A321LR test aircraft, MSN7877, flew for 2 hours and 36 minutes over the skies of Europe with a crew of six to test the aircraft's capabilities, according to a press release from the European manufacturer. During the short flight, the flight crew tested the aircraft's flight controls, engines and main systems to ensure the aircraft is ready to begin its certification testing. In February, the aircraft completed its first transatlantic flight and in October the aircraft obtained EASA and FAA approval.
Boeing held a ceremony at its factory in Renton, Wash. on Feb. 6 where it showed off the smallest MAX variant, the Boeing 737 MAX 7, to its employees and media to celebrate the important milestone for the aircraft. The MAX 7 is the ultramodern version of Boeing's 737-700 aircraft, the workhorse of airlines such as Southwest Airlines and WestJet. One month later, the aircraft took to the skies for the very first time.
After weeks of speculation, Lufthansa officially displayed its new livery and branding at an unveiling ceremony in Frankfurt in February. Lufthansa's new livery focuses more on dark blue and white, leaving out the yellow crane logo on the tailfin that has been primarily associated with the airline and is one of its most identifiable features. The airline changed the livery on the 100 year anniversary of the crane and after the airline's best financial year in history in 2017.
AirlineGeeks was onboard the first transatlantic flight of D-ABYA, the first Boeing 747 to be painted in the new livery and featuring the new branding, from Frankfurt to New York.
Embraer E190-E2 Gets Green Light
After 56 months since the program was launched, Embraer received a type certificate for the E190-E2 on Feb. 28, the first member of the E-Jets E2 family, from the Brazilian Civil Aviation Agency (Agência Nacional de Aviação Civil – ANAC), the FAA (Federal Aviation Administration), and EASA (European Aviation Safety Agency). It is the first time that an aircraft program with the level of complexity of the E2 receives a type certificate from three major worldwide certification authorities simultaneously.
AirlineGeeks flew on the E190-E2 at Farnborough Air Show later in the year.
In a celebration held in Renton, Wash., Boeing officially rolled out its 10,000th 737 aircraft, which was delivered to Southwest Airlines. This milestone for the aircraft manufacturing giant marks a new Guinness World Records title for the "Most Produced Commercial Aircraft Model." The 737 reached its 5,000 mark in 2006. It is quite remarkable that the builder doubled its production in 12 years, given the fact that it took almost four decades to build the first 5,000 aircraft.
IAG Group, the holding company that controls British Airways and Iberia, among other companies, confirmed that it took a major step towards the acquisition of Norwegian Air Shuttle. The statement indicates that the company bought an ownership position of 4.61 percent, which allows IAG to initiate discussions with Norwegian IAG is considering Norwegian Air Shuttle ASA as an "attractive investment," but reaffirms that no talks for a takeover had been conducted, and there is no absolute certainty that the holding will pursue a full acquisition.
Later in the year, Norwegian rejected two buyout offers from IAG, with IAG firing back by expanding the operations of its own low-cost long-haul air, LEVEL. AirlineGeeks flew on LEVEL earlier this month for a comprehensive review of the airline and its offering.
Southwest Airlines flight 1380 from New York's LaGuardia Airport to Dallas Love Field suffered an uncontained engine failure at approximately 32,000 feet. The 737-700's left-hand CFM56 engine failed mid-flight, scattering debris around the aircraft. One of the pieces struck a window, shattering it. This, in turn, led to a loss of cabin pressure. Social media images show that oxygen masks were deployed. 143 passengers and five crew members were reportedly onboard. The NTSB reported that one passenger died as a result of the incident.
Virgin America flight 1948 was the airline's last revenue flight, departing from San Francisco International Airport at 9:32 p.m. on April 24 marking the last departure for the carrier. Around 11:01 p.m. the flight arrived in Los Angeles. The final flights are coming just two years after Alaska Air Group announced it would be purchasing Virgin America for $2.6 billion on April 4, 2016. Richard Branson was opposed to the deal which would see his airline's brand being retired in favor of Alaska's.
Next month in May, AirlineGeeks flew on a newly merged Alaska Airlines on an old Virgin America plane from New York to San Francisco. It just wasn't the same…
Iran's history of turbulent relations with Western nations has greatly impacted its aviation industry and forced aging aircraft to continue flying as newer replacements were unobtainable. On May 22, the 41-year-old EP-IAC performed its final flight, a short repositioning flight between IKA and THR. Due to the need for more parking positions at Iran Air's technical and maintenance facilities and aprons at THR, it was decided that the 747SP fleet would be scrapped instead of stored.
Italian airline Meridiana announced it would be rebranded as Air Italy with significant help and investment from Qatar Airways. In a major step forward for the reincarnated Italian airline Air Italy, the airline flew its first ever flight in its new branding from its home base at Milan's Malpensa Airport to New York's JFK Airport.
The joint venture between Alisarda, the controlling shareholder, and Qatar Airways aims to displace Alitalia, Italy's current national carrier that has been plagued with financial problems, as the airline of Italy. In December, U.S. airlines reignited concerns with Qatar Airways over Air Italy's expansion.
Wet lease specialist HiFly received its first Airbus A380 aircraft this year, marking it the first carrier to operate a secondhand Airbus A380. The delivery inaugurated a new era for the aircraft, as it had never been operated by a second company after the first leasing contract has ended. The announcement gives the A380 a new hope, as it comes weeks after German company Dr. Peters said it would strip two A380s for parts after failing to find an airline willing to keep them flying.
Airbus' newest single-aisle aircraft, the A220, is the by-product of a partnership between Airbus and Bombardier, initially aimed at skirting what was then viewed as impending U.S. tariffs on the aircraft. The Bombardier aircraft in Airbus colors is already proving to be a successful venture for the European manufacturer as New York-based JetBlue Airways has placed an order for 60 of the type to replace its Embraer E190 fleet and Delta Air Lines has already began taking deliveries of the aircraft. The JetBlue order, though, was a surprise for many who thought that the logical step for JetBlue would be the new E190-E2.
The skies above Seattle, Wash. were the focus of the world on Aug. 10 as a Horizon Air Bombardier Dash-8-Q400 stolen from Seattle-Tacoma International Airport was taken for a joyride around the Puget Sound area. Following a statement from Alaska Airlines Group CEO Brad Tilden, we can confirm that the thief was a 29-year old Ground Service Agent for Horizon Air, a job which includes loading and unloading, towing and servicing aircraft. Previous reports speculated him to be a mechanic – due to his familiarity with the aircraft – or a customer service agent.
Unfortunately, that joyride ended in a collision with the ground following numerous unsafe maneuvers with the aircraft.
Primera Air Scandinavia and Primera Air Nordic, both simply known as Primera Air, filed for bankruptcy, citing financial difficulties on Oct. 1. In a company email leaked on social media, Director of Flight Operations Anders Ludvigsson stated that both airlines will follow legal procedures on Oct. 2, 2018. One year after the collapse of U.K.-based Monarch Airlines.
AirlineGeeks flew on the airline just days before it went bankrupt.
Singapore Airlines officially relaunched the world's longest flight from Singapore's Changi Airport to Newark Liberty International Airport in New Jersey using a modified, ultra-long range Airbus A350-900 XWB aircraft. The extreme ultra long-haul flights to and from the island nation are scheduled for 17 hours 50 minutes on the outbound and 18-hours and 30-minutes on the return to Singapore with the route replacing Doha to Auckland, currently operated by Qatar Airways, as the world's longest.
Cypriot carrier Cobalt Air was another casualty of 2018, with the airline's final flight departing London's Heathrow Airport at 5:58 p.m. and landing just a few minutes after midnight on Oct. 18 at Larnaca Airport. With around 10 to 14 daily departures from the airport, Cobalt was the largest year-round carrier in Larnaca. Operating a fleet of six aircraft consisting of two Airbus A319s and four Airbus A320s, Cobalt ran its operations out of Larnaca International Airport in Larnaca, Cyprus. The airline commenced operations in June 2016, approximately one year after the nation's flag carrier, Cyprus Airways, dissolved.
A Lion Air Boeing 737 MAX 8 crashed just minutes after taking off from Jakarta, Indonesia, as the aircraft rapidly lost altitude just minutes after departure. A spokesperson for the airline confirmed that they had lost contact with the aircraft minutes after takeoff. The aircraft was carrying 188 passengers at the time of the accident, delivered to Lion Air on August 13, 2018, and was operating flight JT610, on a trip between Jakarta to Pangkal Pinang.
One of the fastest-growing markets that the commercial aviation industry has seen flourish in recent years is Iceland. Now, traditional carrier Icelandair made a move on its newest competitor, WOW air, and presented a share purchase agreement to control the budget-long haul operator. Just weeks later, Icelandair backed out of the deal as WOW's financial difficulties grew and announced it would retire its widebody aircraft and reduce its long-haul operations.
First Airbus A330-900neo Delivered
TAP Air Portugal received its first Airbus A330-900neo on Nov. 25 at a delivery ceremony held at the Airbus Delivery Centre in Toulouse, France, the first of its type to be delivered. The Portuguese flag carrier has an order for 21 A330neos, with 16 expected to be delivered before the end of 2019, as it undergoes a fleet renewal aimed at next-generation Airbus aircraft.
London's Gatwick Airport closed following drones operating in the vicinity of the airfield, posing a risk to arriving and departing aircraft. Operations at the U.K.'s busiest airport were suspended around 9 p.m. on Wednesday following sightings of two drones, resuming 6 hours later at around 3 a.m. the next morning. However, following further sightings of drones in the vicinity, the runway was closed again 45 minutes later. Since the initial closure, flights due to land at Gatwick diverted to airports near and far and the airport was closed for over a day, all told.
AirlineGeeks Year in Review
This year was a very important year for AirlineGeeks.com as the site's audience grew by 237 percent thanks to our readers and supporters. To accommodate this rapid growth, the team welcomed eight new writers including three international writers, as well as photographers throughout the U.S. As the site continues to grow, we are continuing to recruit for various positions.
The team produced over 950 articles this year, including 24 trip reports, 39 Throwback Thursdays, and 11 airline CEO interviews. To produce this content, our team members visited 80 airports, flew on 171 flights, and attended 94 various events around the world.
In February, AirlineGeeks.com celebrated its five year anniversary. We held multiple events this year including a meetup at the TWA Lounge at the One World Trade Center, multiple tours of America's busiest airport, and a tour at Dallas Fort Worth Airport.
Among the various events we coordinated, the team proudly hosted #AAviationDay 2018, the preeminent aviation event of the year, alongside American Airlines.
As the year comes to a close, we would like to thank all of our readers for your continued support and we can't wait to show you what we have in store for 2019.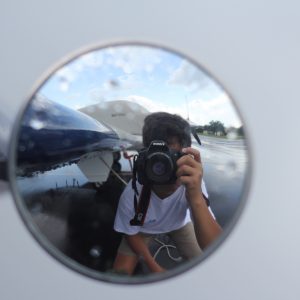 Mateen has been interested in aviation from a very young age. He got his first model airplane at six and has been airplane spotting since he was nine years old. He has always had a passion for aviation and loves learning about different aspects within the industry. In addition to writing for AirlineGeeks, Mateen is also an editor for his high school's newspaper. You can also find him on Instagram (@Plane.Photos) where he enjoys sharing his aviation photography with thousands of people everyday.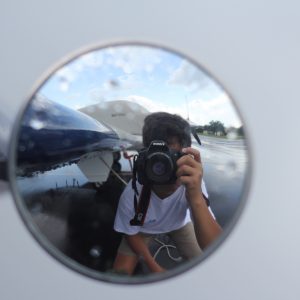 Latest posts by Mateen Kontoravdis (see all)